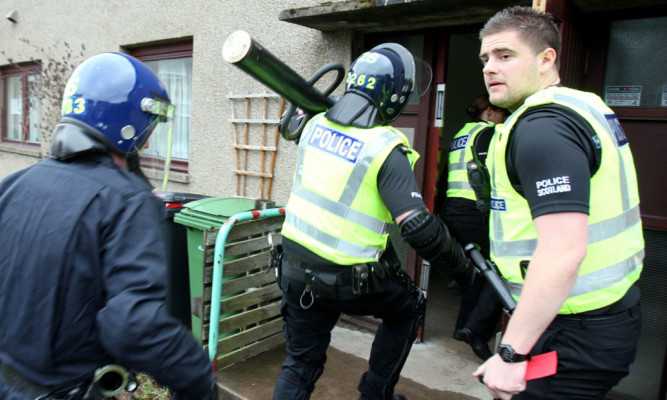 Police stormed the properties of suspected heroin dealers around Angus on Friday.
A total of 22 officers hit three locations in the Forfar and Kirriemuir areas from where the Class A drugs are thought to be distributed around Tayside.
The team sourced from Dundee and Angus gathered at Forfar Police Station just before 9am and were led through a briefing by Angus area commander Chief Inspector Gordon Milne.
They were told individuals they were targeting were all thought to be from the same family or associates of them.
Police in riot gear jumped into vans just before 10am, followed by vehicles carrying sniffer dogs.
Two groups headed to Glencova Terrace and Glenmoy Terrace, in Forfar, and a further one to Prosen Road, in Kirriemuir.
The Tele joined the team heading to Glencova Terrace and watched on as the officers leapt out of the van, ran up the stairs of a block of flats and hammered down a door with a battering ram.
The team kept the occupant inside while a sniffer dog was brought up to scan the premises.
At the time of going to press, officers were still searching the property, but no arrests had been made.
Ch Insp Milne said the alleged dealers had been on the radar for about a year. He added that it had been a successful morning's work and another raid would be carried out later.
He said: "Today is all about focusing on those dealing drugs, not people using them.
"This work is part of our ongoing Operation Ajax and we have been assisted by officers from Dundee to help with the action.
"Drugs are a serious problem and we have had a significant amount of drug-related deaths in the last few months and this must not go on."
Ch Insp Milne said that by gathering intelligence from the raids, police will be able to discover more information about the organised gangs that bring drugs to Tayside.
He said: "There will be bigger people along the chain from Birmingham, Manchester and Liverpool and, while we are disrupting the local drug dealers, we hope to gather information of those higher up.
"There will be about £100,000-worth of heroin, about seven kilos, brought into Angus every month from elsewhere."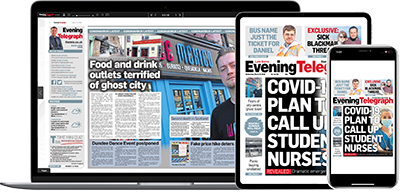 Help support quality local journalism … become a digital subscriber to the Evening Telegraph
Subscribe