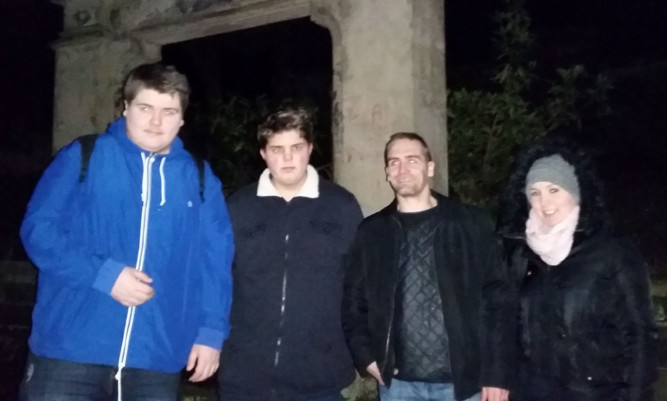 When it comes to things that go bump in the night, one of the first things that springs to mind is the film Ghostbusters, with its catchy tune and wacky storyline.
But finding spirits is no laughing matter for a group of Tayside supernatural enthusiasts.
The Dundee Paranormal Investigation Team (D-PIT) has spent the past 18 months detecting spooky goings-on in famous haunted spots and in people's homes.
Often dubbed "the real-life ghostbusters", they've had abuse but group leader Darren Constable said that hasn't put them off.
The 29-year-old, who is joined on his investigations by step-children Chelsea Carling, 17, and Ryan Carling, 16, as well as friend Adam Gill, 16, said: "I've always been interested in the paranormal through watching Ghost Adventures. When people call us we have a consultation and if there's something unexplained we go in and see what we can find.
"We've been to the Eighteen and Under building near Bell Street, Birkhill Cemetery, a home in Candle Lane, and we're due to visit a woman who thinks she has a poltergeist.
"We've never been asked to get rid of a spirit, most people just want answers.
"Otherwise we contact a specialist company, who use crystals, re-set the aura in a property, or ask a minister to bless the house."
The Tele joined D-PIT on one of their outings to Balgay Bridge, said to be haunted by the White Lady a ghostly figure that throws people off the bridge, according to local legend. Armed with a night vision camera, a digital voice recorder, a radio and an EMF detector a device that picks up electric charges in the atmosphere the group split into two to see what spooky surprises awaited.
Darren said: "Electric charges are usually a sign that there's a spirit there.
"We ask the spirit questions and it uses the white noise on the radio to speak through it.
"Also, on reviewing the audio on the digital recorder we can hear voices."
Most of the visit was spent calling out to ghosts and urging them to speak although on this occasion they were unusually quiet.
Darren said that many people were sceptical about the group's methods, but that he believes they work well.
He said: "We've been called idiots, freaks, dafties.
"We just have to ignore the comments we're not hurting anyone and we're non-profit.
"We're trying to get financial backing or equipment donations, as well as more investigation work, so we want people to get in touch on the Facebook page called D-PIT.
"In Friday's pictures, we saw a white orb above the bridge, where Adam was calling the White Lady."
Adam added: "At first I was too scared to join the group, but it gives you a massive rush."
Although the White Lady made no appearance this time, it got the Tele team thinking do ghosts exist? Tell us your thoughts.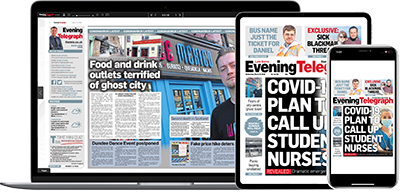 Help support quality local journalism … become a digital subscriber to the Evening Telegraph
Subscribe