Its ships were recognised by generations of holidaymakers and took the names of Scotland's cities across the world with them.
Tens of thousands thronged through the doors of the former DP&L building on Dundee's waterfront, with children marvelling at models of SS Dundee, MV Arbroath and SS Perth as their parents booked holidays.
The building was sold to Stone Acre last month for redevelopment as luxury flats, with its former tenants headed to auction houses across the UK.
And part of the legacy of DP&L is to go under the hammer in Angus six fine model vessels and an array of maritime artwork charting almost two centuries of world travel.
Mementos from the Maritime Building in East Dock Street are being carefully disembarked at Taylor's Auction Rooms in Brent Avenue, Montrose, ahead of their sale in May.
The models are expected to fetch thousands of pounds per piece one SS Dundee made 12,000 at a London auction.
Ian Taylor said the display is already "coming together" and attracting nostalgic glances.
He added: "DP&L are selling off all their ship models and we have those on display at the moment.
"The sale isn't until the end of May so there is plenty of time to come and take a look around.
"We have half a dozen of the ship models and a lot of memorabilia including the MV Arbroath and the likes of the SS Dundee and SS Perth.
"We are expecting a lot of attention for these items."
The sale is on May 30.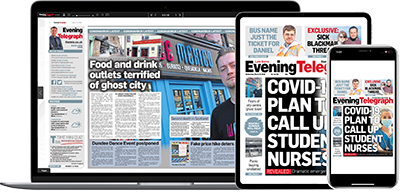 Help support quality local journalism … become a digital subscriber to the Evening Telegraph
Subscribe