The official launch of this year's Arbroath Relay For Life will take place at the town's golf club on March 13.
The identity of the guest speaker has still to be revealed but the evening has been planned with this year's theme, TV shows, in mind and is sure to be a great night.
Relay chairman Ian Angus said: "While many of our teams are already busy fundraising and organising towards the relay weekend in September, we wanted to ensure the official launch would be something special, to salute their efforts and inspire them to even greater things.
"Last year's relay finished on a real high and it seems that everyone wants to be involved this year. We are also delighted to announce a new committee member.
"Hazel Ogilvie has recently agreed to join us and, along with Dorothy Simpson, will be working with survivor chair Mandy Ritchie.
"Our survivors are at the heart of everything we do at Relay and we hope to see even more registering this year as survivor rates continue to increase thanks to the work of our scientists."
Those wishing to take part in the relay can contact Mr Angus on 07928 521030 or team chairman John Crompton at bigjc17@hotmail.com.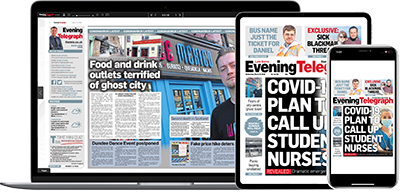 Help support quality local journalism … become a digital subscriber to the Evening Telegraph
Subscribe