Parents and teachers of P1-3 pupils in Angus are to be consulted over proposals to change the school day that could lead to a reduction in direct contact between pupils and teachers.
The parents and teachers will be asked about a new structure that would be more in line with Scottish Government philosophy. While no reduction in the school day is proposed, a reduced amount of time devoted to direct contact between the teacher and pupil is on the cards, as is a greater emphasis on learning through play. The consultation will run until the end of April.
The government announced in 2013 that it wanted greater emphasis placed on early-years play sessions. A report to Angus Council's children and learning committee was made by strategic director Margo Williamson, which acknowledged that opportunities exist across Angus for all children to be involved in unstructured outdoor play at lunch and playtime.
The management of teacher pupil contact, especially in the early years of primary, varies greatly and there are also variations in the timings of the school day. The report says the introduction of free school meals for all P1-3 children prompted a rise in numbers. This means schools have to look again at lunch-break arrangements and ensure there is adequate play time. The consultation and report will seek to balance meal time with play time and ensure there is enough play in the school day.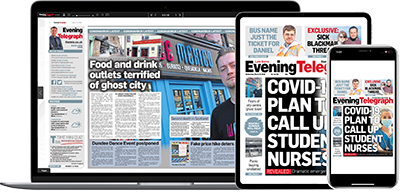 Help support quality local journalism … become a digital subscriber to the Evening Telegraph
Subscribe