Some parents in Arbroath have been criticised for inconsiderate parking at a primary school.
Residents near Inverbrothock Primary say the start and end of school days represent "an accident waiting to happen" as vehicles clamour for a parking space to drop off and pick up children. After witnessing a string of near-misses, one Kirkton Place resident has urged parents to put safety first for youngsters. The cul-de-sac is a favourite stopping place for parents, but Rose Thomson says the traffic situation is becoming intolerable.
She said: "It's a shocking situation. We've tried everything to get parents to be responsible, but all that is in their mind is getting a space as close to the school as possible. Fair enough, get your children to school, but often parents then stand around chatting while cars are blocking driveways."
The pensioner added: "There have been accidents and scrapes and one of the worst situations is when delivery vans get stuck up in the parking situation.
"I had to grab a young lad just before a delivery van came along the road. He was shaking and I dread to think what would have happened if I hadn't seen it coming. Cars are parked nose to tail and you just can't see what's coming."
An Angus Council spokesman reminded drivers to park considerately and added: "Any cars parking illegally should be reported to Police Scotland on 101."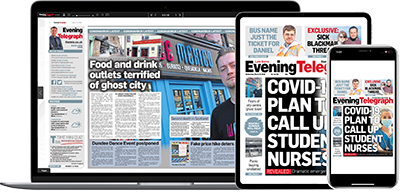 Help support quality local journalism … become a digital subscriber to the Evening Telegraph
Subscribe