NHS Tayside received more than 4,000 urgent suspected cancer referrals last yearwith some patients waiting up to two months to see a specialist.
New figures reveal 17 people who were showing symptoms of the deadly disease had to wait eight weeks before seeing a consultant after being referred to the health board during 2014.
Another 30 people had to wait up to seven weeks, while a further 135 were only seen within six weeks.
A patient group has blasted the delays experienced by some patients as "shocking".
However, Dr Alan Cook, medical director of the NHS Tayside Operational Unit, said: "NHS Tayside meets the Scottish Government cancer 62-day and 31-day waiting time standards.
"The 62-day referral to treatment standard is to achieve 95% of patients diagnosed with cancer starting treatment within 62 days if urgently referred with a suspicion of cancer.
"The 62-day standard intends to ensure that patients referred urgently with a suspicion of cancer are prioritised to receive the tests and procedures they need to confirm or eliminate cancer as quickly as possible, and if cancer is diagnosed to begin treatment as soon as possible.
"Our cancer teams work extremely hard ensuring every patient is tracked through each stage of their journey to provide a high standard of care at this worrying time."
In total, the health board handled 4,348 urgent suspected cancer referrals last year.
The figures have also shown that 277 people waited up to five weeks to see a cancer specialist across the region, while another 441 patients were seen within a month. The vast majority of patients 2,466 met with a consultant within a fortnight.
The figures don't include referrals which were cancelled or later considered non-urgent.
Health boards are currently not given any specific time-frame for patients suspected to have cancer to see a specialist.
However, the Scottish Government has implemented a national standard for health boards that 95% of patients must start cancer treatment within 62 days from first referral on suspicion of cancer and within 31 days from a decision to treat.
Margaret Watt, chairwoman of the Scotland Patients' Association, said: "It is shocking that some people have to wait up to eight weeks to see a specialist.
"They should be seen as quickly as possible. The quicker people with cancer are seen then the better the outcome can be."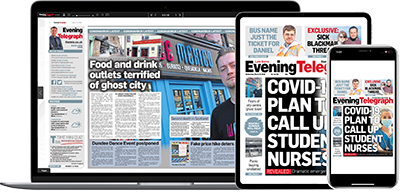 Help support quality local journalism … become a digital subscriber to the Evening Telegraph
Subscribe