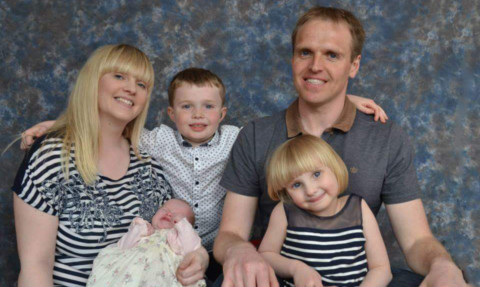 "There must be a mistake why me?"
Those were the first thoughts that went through the mind of a Dundee footballer after he was diagnosed with a terminal illness.
Lee Bertie, 37, was forced to give up playing for Broughty Athletic after contracting motor neurone disease for which there is no cure.
Amazingly, he still works in IT despite steadily losing his mobility and he is determined to stay positive.
Lee, who has played for a number of other clubs including Lochee United, said: "I first started noticing subtle symptoms in December 2013.
"My right hand and arm felt weak and I had trouble writing and typing. I thought it was a trapped nerve or something else that is curable.
"Then, slowly but surely, it spread to my left hand and the rest of my body, until I couldn't pick up a pen to write my name.
"I had eight or nine months of various tests, including an MRI scan, and had to give up football in May.
"Finally I was diagnosed in October it takes a while because there's no definitive test.
"It works by eliminating the possibility of different conditions, until you arrive at MND."
Lee, from Kirriemuir, said one of the hardest things he had to do was tell his family about his illness.
But with the support of wife Claire, nine-year-old son Cole, daughter Lois-Lily, aged six, 10-month-old Murran and other family and friends, he's making improvements to his life.
Lee said: "My first response when I was diagnosed was to say there must be a mistake.
"I was overwhelmed and I thought it couldn't be true this lasted for four to six weeks.
"Then I thought, 'Why me, what have I done?'
"Naturally I wanted to know how long I had left, and the answer was that everybody is different.
"It could be a few months or it could be years.
"Now I'm at the stage of trying to accept it, there's no point in being bitter."
He added: "I've improved my diet and I'm taking supplements, although there isn't anything proven that I or the hospital can do to ease the symptoms.
"If my time is limited then I might as well spend it with family and be as positive and healthy as possible.
"I do have down days, sometimes it's a struggle to get out of bed, but I try to keep my spirits up.
"I'd like to thank everyone who has supported us so far."
Lee's family are now fundraising for MND Scotland, a charity supporting those with the illness, and have already collected more than 3,000 in donations.
Claire plans to do a fun run with the couple's children on May 16 to add to the total.
On the fundraising website JustGiving, she wrote: "My beloved husband and best friend has been diagnosed with motor neurone disease.
"It has shattered our world.
"We never give up hope that they will find a cure and the only way they can is to raise money for this charity so please support us."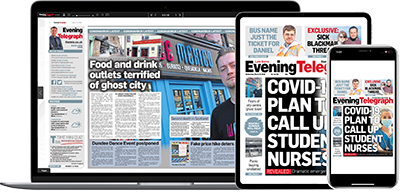 Help support quality local journalism … become a digital subscriber to the Evening Telegraph
Subscribe