A dog is recovering after getting his leg stuck in a metal clip in a freak accident.
Gizmo the Yorkshire Terrier had to be freed using bolt cutters after his front left leg became wedged in a carabiner clip linking his collar to a lead.
Owner Martin Beer, 34, and his wife Liz, from Edinburgh, took the seven-year-old dog to vet charity PDSA's Pet Hospital in the city where the animal was sedated for the operation.
Laura Martin, PDSA vet, said: "His leg appeared to be quite sore and he was getting very upset.
"We decided that the safest way to remove the clip would be to sedate Gizmo. We shaved the area around the clip and then used the bolt cutters to remove it.
"As we always say at PDSA, no two days are ever the same. Gizmo's spot of bother was just one of those freak events, but we're glad to confirm he has come through it with no lasting damage."
Mr Beer said: "Thankfully he didn't have any injuries to his leg and was just slightly bruised but we're really grateful for the treatment he received."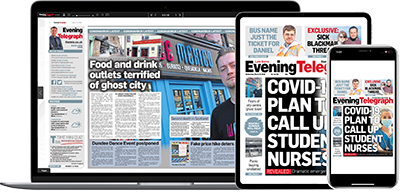 Help support quality local journalism … become a digital subscriber to the Evening Telegraph
For as little as £5.99 a month you can access all of our content, including Premium articles.
Subscribe