Paranormal experts have been drafted in to probe ghostly goings-on at a Perthshire pub that used to be a coffin store.
A team of ghost-hunters was invited to spend the night at the centuries-old Bankfoot Inn.
The move follows tales from guests of unexplained noises and appearances by the shadowy figure of an old man, simply known as The Thing. The Scottish Paranormal Investigations group agreed to carry out a study at the Bankfoot establishment, north of Perth, after a request by owners Rab and Susan Wallace.
The researchers said that paranormal activity particularly in older parts of the building was "off the scale" and reported seeing full apparitions.
Their findings will be released after a follow-up visit in the coming weeks.
The Wallaces took over the inn seven years ago and said they have been inundated by stories from customers about their spooky overnight experiences.
Of her own brush with the supernatural, Susan said: "Very early on in our stay at the inn, I heard my name whispered in my ear several times while working alone in the laundry room. That's when I realised we might have ghosts."
Guests have reported taps turning on and off by themselves, objects being knocked over and the sight of a silhouette at the end of their beds.
The pub dates back to the 1760s, when it was a coaching inn.
The cobbled horses' stables are still part of the inn.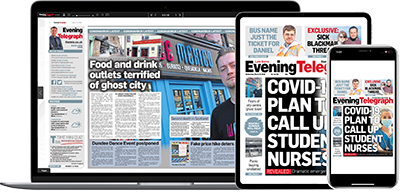 Help support quality local journalism … become a digital subscriber to the Evening Telegraph
Subscribe