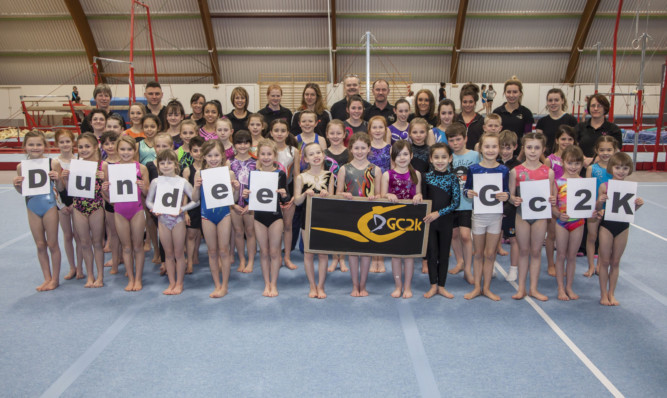 The Evening Telegraph has teamed up with Dundee Leisure and Culture to find one of the winners of this year's Dundee Sports Awards.
Tele readers can vote for the winner of the Club of the Year using the poll to the right. You can vote as many times as you want, just refresh the page to cast another vote.
Voting will close on Friday, February 13, and the winner will be announced at the awards ceremony at the Caird Hall at the end of the month.
Dundee Gymnastics Club 2K had great success last year at Scottish, National and International levels.
A number of club members represented Scotland in Women's Artistic and Tumbling disciplines with Kirsty Campbell named as first reserve for the Scotland Commonwealth Games team. The club won the Scottish Championships Team Gold and the Gordon Foster Team Challenge.
Individual club members also had fantastic success including medals at the Scottish and British Championships and the Hamburg International.
Throughout the year, the club has increased its membership from 150 to 180, added two new club sections and put a total of 16 coaches through UKCC coaching courses. DGC2K also ran a very successful 'Celebrate' summer camp.
Dundee Hawkhill Harriers brought in new committee members and a new club website, which has been a factor in their increasing membership over the past year.
The club can accommodate all ages and, with help from Leisure & Culture Dundee and JogScotland, 2014 saw the success of two summer camps with full attendance (80 athletes aged 8-16), providing a combination of elite training and introductory skills.
Club members have had individual success, with two representatives at the Commonwealth Games including a sixth-place finish for Eilish McColgan, a Scotland representative at the British and Irish Cross County Championships, and one member inducted to the Scottish Hill Runners Hall of Fame after completing 25 consecutive Ben Nevis Hill runs. This year's success has all happened thanks to the commitment of the club's fantastic volunteers.
Grove Menzieshill Hockey Club have had a fantastic year, which has seen club members represent Scotland from U/16 to senior level, including the Scotland women's team captain at the Commonwealth Games.
The club had eight Queen's Baton bearers and, through a successful application to sportscotland's Direct Club Investment Scheme, they have employed a junior co-ordinator which has led to the junior membership growing by over 40.
The club ran successful summer and autumn camps in association with Leisure and Culture Dundee and also secured 'Celebrate' funding to host Commonwealth Games-themed festivals.
The club has also set up a Young Ambassador programme which involves 16 young people from nine schools.
Dundee Dragons Wheelchair Sports Club has developed tremendously following its formation in 2013 with the purpose of overcoming the lack of sporting opportunities for wheelchair users.
Following developments in 2014, the club now offers training and competition opportunities in rugby league, basketball, indoor and outdoor tennis, Paralympic rugby (murder ball) and curling.
Dragons participated in events all over Scotland last year, including Glasgow, Stirling and Aberdeen.
The club welcomes children and adults looking, not only to achieve physical benefits, but also to improve their self-esteem and confidence.
Through partnership working with the NHS, Dundee City Disability Sport and other local partners, Dragons are going from strength to strength.
Dundee West Football Club has 250 members ranging in age from 6-19-years-old.
The club has teams involved in Fun Fours, Soccer Sevens, 11-a-side and girls' football.
Dundee West has developed strong links with local schools and, due to successful recruitment and retention of players, the club introduced two new teams in 2014.
Dundee West was one of three clubs in the East Region to achieve Quality Mark Legacy status in 2014, a fantastic achievement.
They also ran a successful summer camp for 60 children. Dundee West has played a massive part in the development of Dundee North West Community Sport Hub, which has seen over 50,000 invested in their Charlotte Street facility. 2014 was a busy and successful year for the club.
Menzieshill Whitehall Swimming and Water Polo Club has grown from strength to strength in 2014, reaching over 300 members, an increase of 12% from the previous year, placing them in the top 12 largest swimming clubs in Scotland and the biggest in Midland District.
The club now offers sessions ranging from Learn to Swim to water polo and open water swimming. Performance highlights in 2014 for the club were winning the First Division Swim Champions title and the Scottish U/18 Water Polo league and cup.
There was success for four individuals making the Scotland team in the Commonwealth Water Polo Championship and one representing Great Britain in the European Juniors.
The club also boasted having Scotland junior boys' and girls' water polo team captains.#qp_main228695 .qp_btna:hover input {background-color:rgb(72,255,56)!important}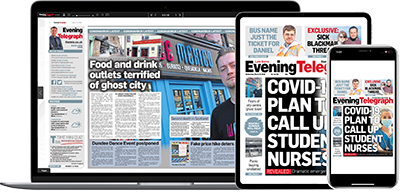 Help support quality local journalism … become a digital subscriber to the Evening Telegraph
Subscribe