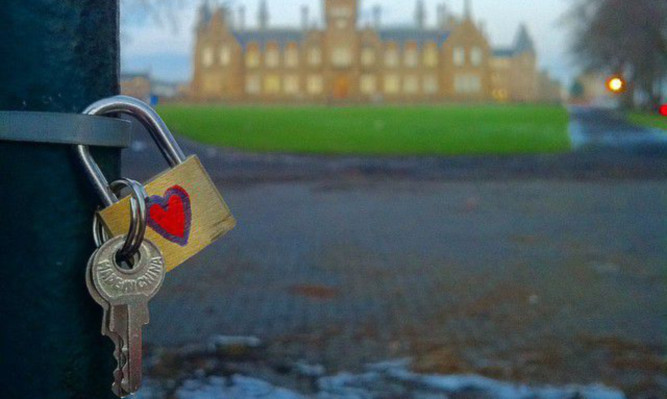 A mysterious artist has the people of Dundee all locked up with a project to encourage some loving feelings.
Padlocks with a heart on them have appeared all around city.
Each of the small locks come with a set of keys and have a message on the back.
Some of the messages include: 'Free Love', 'Do Something Special' and 'Try To Inspire'.
They are attached to railings in public places – including the City Quay, Baxter Park and the city centre.GALLERY: Have a look at where some of the love locks have been leftWhoever finds one can use the keys to unlock it and keep the token.
One social media user shared her delight today at finding one of the padlocks.
Harriet Tattton posted on Instagram: "Was just about to cross the road when I looked right and spotted this on a traffic light.
"People looked at me like I was mad taking it down but it has absolutely brightened up my day."
A number of locks have been hidden around the city so far, with more being revealed by the artist daily.
Known only as Dymagate, the creative mind behind the project has drawn comparisons to Banksy due to his anonymity.
However, in a rare interview in 2012 he explained: "My mum phoned me to tell me my little brother and his girlfriend were expecting a baby.
"When we were on the phone I started to doodle on a padlock I had picked up.
"I drew a heart on the front and a message on the back and the Freelove Padlock was born."
He continued: "I put the padlock, with the keys attached on a wire fence in the city centre.
"I did it in the hope that someone who needed it might stumble across it and the next day it was gone.
"I uploaded the photo of the padlock to Instagram and the response was brilliant, it spurred me on to share more."
Dymagate has previously undertook the project, dubbed #padlockbombing on Twitter, in Aberdeen and Glasgow.
Have you spotted one of the padlocks around Dundee?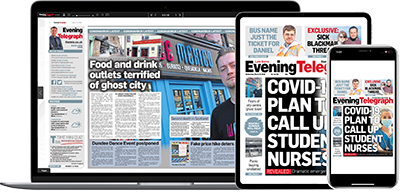 Help support quality local journalism … become a digital subscriber to the Evening Telegraph
Subscribe