Environmental campaigners have called on the Scottish Government to act and "rule out" fracking after moves to introduce a moratorium were rejected at Westminster.
The UK Government agreed to an "outright ban" on fracking in national parks and accepted a Labour amendment on tougher regulation on shale gas extraction following a debate in the House of Commons today.
But ministers won a series of votes at report stage on the Infrastructure Bill by big majorities, including the backbench attempt to place a moratorium on further fracking taking place, which was defeated 308 to 52.
WWF Scotland director Lang Banks said: "It's disappointing that, despite the support of the SNP, moves by MPs for a moratorium on fracking across the UK were defeated. However, all is not lost.
"The ball is now back in the Scottish Government's court. In the interests of people and the environment, just as they have done on nuclear power, we now urge them to use their existing powers on planning to rule out fracking and other unconventional gas extraction here."
Scottish Labour said attention must now turn to the Scottish Government but the SNP described the party's policy on the issue as a "sham" and said the vast majority of Scottish Labour MPs abstained on the vote on a moratorium.
It comes after Scottish Labour leader Jim Murphy said over the weekend that the party would introduce a "triple-lock system" involving a local referendum before final planning approval is given, halting fracking until lessons are learned from the rest of the UK, and a "comprehensive review of the baseline conditions" before any planning application is granted.
Speaking today, SNP energy spokesman Mike Weir said: "Scottish Labour have proven themselves to be a complete sham on fracking. After a weekend of posturing, Jim Murphy's MPs failed to back a fracking moratorium. Clearly they are now just announcing policies, any policies for publicity and political gain, yet doing nothing to follow them through.
"Their pathetic motion did not involve a moratorium, and did not even apply to Scotland.
"The SNP support a UK moratorium to ensure that no more licences for fracking are granted before full powers over licensing are transferred to the Scottish Parliament.
"Scottish Energy Minister Fergus Ewing has written to the UK Government asking them not to issue any more licences in Scotland, but today's vote could have forced them to stop. This would have ensured that the Tory days of gung-ho fracking policies come to an end in Scotland and we could develop our own system when powers are devolved."
Mr Ewing is expected to make a statement on the issue to Holyrood this week.
Tom Greatrex, Scottish Labour's shadow energy minister, said: "This is a huge U-turn by the Government and big victory for the protection of Britain's environment.
"Scottish Labour has always said that shale gas extraction cannot go ahead unless there is a system of robust regulation and comprehensive inspection, but David Cameron has repeatedly ignored people's genuine and legitimate environmental concerns over shale gas. Now, thanks to Labour's amendment, the Government has been forced to accept that tough protections and proper safeguards must be in place before fracking can go ahead.
"Attention must now turn to the Scottish Government, who can block shale gas in Scotland if they choose. The SNP in Holyrood have always had control over the planning and permitting regime, giving them an effective veto over any developments. Their silence on these existing powers is telling."
Mary Church, Friends of the Earth Scotland head of campaigns, said: "The UK Government have demonstrated wilful disregard for the mounting evidence and ever-increasing community opposition against unconventional gas by pushing ahead with their plans to go 'all out for shale'.
"Since there won't be a moratorium at UK level any time soon, we urge the Scottish Government to act now using existing powers to stop this unnecessary and unwelcome industry. Energy Minister Fergus Ewing's statement to the Scottish Parliament this week will be the crucial test of whether or not the Scottish Government are going to protect people and the climate from unconventional gas and fracking.
"Today's debate and vote showed the cross-party concern about the coalition's approach to the fracking industry, but unfortunately not enough MPs were willing to vote to stop this new frontier of fossil fuels.
"It's great news that SNP MPs voted and spoke up in favour of protecting communities and the environment from the unconventional gas and fracking industry. It was a surprise that Scottish Labour MPs seem to have mostly abstained, given the party's new commitments over the weekend."
A Scottish Government spokesman said: "The Scottish Government has long said the issues of unconventional oil and gas should be decided in Scotland – not by the UK Government who have taken a gung-ho approach to unconventional oil and gas and fracking.
"With the process of the transfer of powers now under way, the Energy Minister has recently written to the UK Energy Secretary Ed Davey requesting that the UK Government will not issue further licences in Scotland in the period before the powers are transferred.
"The Scottish Government has taken a cautious, considered and evidence-based approach to unconventional oil and gas. We have put in place robust environmental regulation, tougher planning rules and successfully opposed the UK Government's plans to end Scottish householders' rights to object to drilling under their homes.
"The Energy Minister will make a statement to Parliament later this week about how we intend to take our approach forward."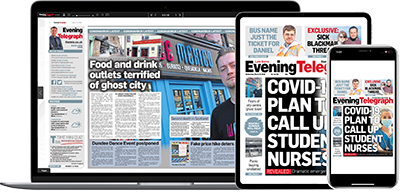 Help support quality local journalism … become a digital subscriber to the Evening Telegraph
Subscribe