Requests for assisted suicide should be decided by the courts if the process is to be legalised in Scotland, an independent peer has told MSPs.
Baroness Finlay of Llandaff, a professor of palliative medicine, said courts rather than doctors should adjudicate on eligibility as she highlighted a number of problems with the Assisted Suicide Bill.
The Bill, which is being taken forward by Green MSP Patrick Harvie, would allow those with terminal or life-shortening illnesses to obtain help in ending their suffering.
It is the second attempt to legalise assisted suicide in Scotland after the first was defeated at Holyrood in 2010.
Baroness Finlay was among a number of palliative care experts giving evidence on the proposed legislation at Holyrood's Health Committee.
The Bill would allow people aged 16 and over to place a formal request with their GP to end their life.
Any requests to GPs must be backed up by a second professional opinion and followed by a 14-day "cooling off" period.
A second request is then made, after which one of the doctors supplies a licensed facilitator with a prescription to enable assisted suicide to take place.
Baroness Finlay said: "You have attempted in this Bill to take it out of medicine, which is a good thing to do, but by having medicine involved at all you have a fundamental problem.
"You have got 4% of licensed palliative medicine doctors prepared to have anything to do with this, 96% are not."
She added: "With that resistance from doctors – which is resistance for good reason – it is not going to work.
"My advice would be that if you are serious about this, and you really want to have a system that might actually work, then you put the adjudication with the court actually deciding who is or is not to be provided (with assisted suicide)…and you get a court-appointed person and a court system."
MSPs also heard from Dr Pat Carragher, medical director at the Children's Hospice Association Scotland, who was concerned about the age limit of 16.
He said: "I have considerable concerns about this Bill if it were to become law, because children are different than young people, young people are different than adults. We know there are different maturing rates."
He said there is "increasing amounts of work available to us now to show that people even up to the age of 25 don't understand the absolute significance that death would be final for them".
Baroness Finlay added: "Up to 25, there is really good developmental, psychological evidence that youngsters don't understand it.
"I think this is a public-safety issue. This is about those who are vulnerable to coercion, vulnerable to pressure, vulnerable to feeling that they are a burden."
The committee also heard from a panel of religious representatives who expressed their strong opposition to the Bill.
Ephraim Borowski, director of the Scottish Council of Jewish Communities, referred to Holocaust Memorial Day to make "a point about practicalities rather than principles".
He said: "It's now a well-known cliche that the Holocaust didn't begin in Auschwitz, it ended in Auschwitz.
"In terms of principle, it began with the belief that some lives are not worth as much as others, and that is precisely what we are faced with here."
Dr Salah Beltagui, a member of the Muslim Council of Scotland's standing committee on parliamentary a ffairs, told MSPs that the legislation would create a "culture of suicide".
He said: "When I looked at the Bill, and other people looked at it, we found that it will do a lot of things which are not to the benefit of society as a whole.
"It will create mistrust between the medical profession and the general public.
"It will create a culture of suicide as one option of treatment of any person and if that's an option, that will be a very attractive one to many young people especially who are in depression or in a very bad way."
Rev Sally Foster-Fulton, convener of the Church of Scotland's church and society council, said: "We cannot safeguard the slow erosion of the understanding of the dignity and the worth of human life.
"We cannot safeguard the most vulnerable, the old person in a home who feels that he or she is spending all of her or his children's inheritance and it would be a really good, honourable thing to agree to assisted suicide for all these good reasons – but they don't want to go.
"There's no way to safeguard against that."
"Once that legislative genie is out of the bottle you can't get it back."
John Deighan, parliamentary officer for the Catholic Bishops' Conference of Scotland, said: "W hy are people at this very time in history wanting to choose to die? I think that's an existential question that perhaps needs addressed.
"Part of that will be a breakdown in the bonds that we have in society and I think it's when you have that breakdown in bonds, and you feel isolated and you feel you're not worth anything, you don't mean anything to anyone else, then you're more liable to feel like you want to die.
"I think what assisted suicide does is it puts a finality to that decision that, yes, we are breaking all of our bonds with you and you're breaking all of your bonds with society. And I think that's something that we cannot do."
Rev Dr Donald MacDonald, a former surgeon and retired professor of theology and ethics representing the Free Church of Scotland, said: "We believe there is never a good and sufficient reason for ending someone's life."
Rev Dr Harriet Harris, convener of the Scottish Episcopal Church's doctrine committee, added: "What feels different about assisted suicide is that it feels like death chosen for the sake of death."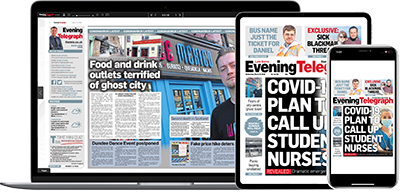 Help support quality local journalism … become a digital subscriber to the Evening Telegraph
Subscribe