Britons have been warned to take extra care as cold weather, strong winds and snow sweep across the country this week.
The Met Office today issued a yellow warning for the north of England – which means be aware – and called for the public to be aware of possible disruption to travel.
Wintry showers are expected to hit northern and eastern England and the Midlands, Scotland and Northern Ireland on Wednesday and Thursday.
Forecasters expect 3-6cm of snow to accumulate on high ground in the north of England, with 5-10cm at lower levels and over 10cm expected in high ground in Scotland and Northern Ireland.
People have been advised to stay indoors and look out for friends and family who may be vulnerable to the cold as the chill factor sets in because of northerly winds.
Dr Angie Bone, head of extreme events team at Public Health England, said: "Although many parts of the country have already seen colder weather this winter, it does look like we're in for a further spell with bitter winds and snow showers likely to make it feel particularly cold.
"In this sort of weather we know that older people and people in poor health tend to stay indoors.
"While this is sensible, it's worth remembering these people may need help getting to a hospital or GP appointment, with shopping or prescription fetching, or just someone to talk to.
"If you know someone in this situation, and most of us do, think about what you can you do to help out.
"Contrary to popular belief, it's actually working age adults who have most slips and trips outside in cold and icy weather, not older people, which is why it's important to wear shoes with a good, slip-resistant grip to prevent any accidental falls.
"Although most of our advice on keeping warm and well in cold weather may seem like common sense, it's important to remember that cold kills, even in places where the temperatures aren't at their lowest."
This week's cold snap is expected to affect Yorkshire and Humber, the North East, the North West, West Midlands, the East Midlands and the East of England.
There is at least a 60% chance of severe weather, with average temperatures expected to drop to 2C or below within the next 48 hours and a chance of snow or ice, according to the Met Office.
Chief meteorologist Eddy Carroll said: "A cold front is expected to cross the UK during Wednesday, introducing much colder conditions to central and northern England in particular.
"Very strong winds will accentuate the cold. Snow showers are likely in most areas, but especially the north west where significant accumulations are likely to build up, especially in hilly areas."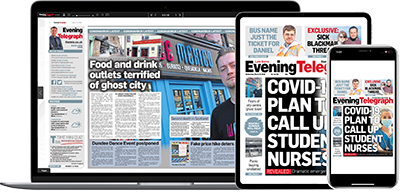 Help support quality local journalism … become a digital subscriber to the Evening Telegraph
Subscribe