Labour leader Jim Murphy has called on the Scottish Government to include an NHS frontline fund in its spending plans for the year ahead.
His party argued for the 100 million fund during the Budget debate last week, stating that it would ease pressure on A&Es and allow other services to operate seven days a week.
It could be paid for using money from Barnett consequentials, Labour said.
Mr Murphy was speaking after a visit to Aberdeen Royal Infirmary as part of his shadow cabinet's meeting in the city.
Three reports into healthcare in the north-east of Scotland published last month highlighted a number of "extremely serious" issues, including lack of capacity in A&E at Aberdeen Royal Infirmary.
Mr Murphy said: "My visit today confirmed what every Scot knows to be true – our NHS staff are talented, committed and dedicated.
"They are life-savers and life-changers. But they are also working under extreme pressure.
"That extreme pressure means waiting-time targets are being missed and operations are being cancelled.
"It is not good enough to point the finger at individual health boards, they are doing all they can, but the pressure on our NHS is across Scotland.
"The problem lies at the very top with the Scottish Government in Edinburgh."
He added: "That is why I am calling on the Scottish Government to bring an amended budget to the Scottish Parliament this week and meet Scottish Labour's calls for a NHS frontline fund which would reduce the strain on our NHS staff and deliver better care for patients.
"The fact is that illness and tragedy don't work nine to five Monday to Friday, but our hospitals are expected to get by with a skeleton staff at the weekend.
"We should be aiming higher for our NHS in the 21st century."
A spokesman for Health Secretary Shona Robison said: "Labour would have more credibility with this funding call if they hadn't already called for the Scottish Government to spend the additional budget resources on a resilience fund for the oil industry, on additional local government funding and on more energy-efficiency measures.
"The fact is the SNP has been increasing frontline NHS funding year on year, meaning spending on Scotland's health service will increase in real terms to record levels next year, taking Scottish health spending above 12 billion for the first time.
"NHS Grampian has seen an overall increase of 9.7% in real terms – the largest of any health board in Scotland – despite Scotland's resource budget being cut by 6.3% in real terms between 2010/11 and 2015/16 by the UK Government.
"If Labour really wanted to improve patient care they could start by explaining why they would scrap the 12-week treatment time guarantee, which has benefited almost 54,000 patients within the NHS Grampian area."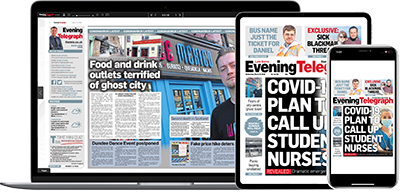 Help support quality local journalism … become a digital subscriber to the Evening Telegraph
Subscribe