International exports increased to a record high of 27.9 billion in 2013, official figures have shown.
Exports rose by 1.9 billion during the year, up 7.2% from the previous year.
Food and drink accounted for 18% of sales, followed by refined petroleum at 12.6%.
The US remains the largest single country market for Scottish international exports with an estimated 3.9 billion of goods, followed by the Netherlands at 2 billion, Germany at 1.9 billion and France at 1.8 billion.
Just under half of international exports are destined for countries within the European Union.
Meanwhile, exports from Scotland to the rest of the UK also rose, up by 1.2 billion to 46.2 billion.
First Minister Nicola Sturgeon said: "These excellent figures show that we are on course to meet our stretching target to increase exports by 50% by 2017.
"The strong and reputable Scottish brand is driving up demand as our exporters continue to seize on the opportunities that exist in new and existing markets in their respective fields.
"Scotland's economic recovery is now well established: our economy has grown continuously for two years, GDP is above pre-recession levels and the economic outlook is the strongest it has been for many years."
Scottish Development International welcomed the findings.
Chief executive Anne MacColl said: "This year's Global Connections Survey confirms that appetite for Scottish products and services is at an all-time high.
"Despite mixed rates of economic growth and recovery in global markets, we continue to grow our exports in both mature and emerging economies with more and more Scottish businesses waking up to the international opportunity."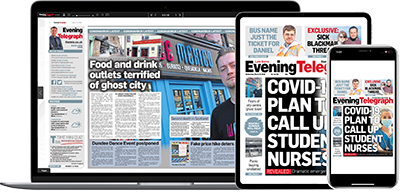 Help support quality local journalism … become a digital subscriber to the Evening Telegraph
Subscribe