Standards of cleanliness at a hospital where inspectors found mould in shower areas and contaminated bedframes, armchairs and toilet seats are "simply unacceptable", the Health Secretary has said.
Shona Robison said the report by the Healthcare Environment Inspectorate (HEI) into conditions at Edinburgh's Western General Hospital was "extremely disappointing".
Inspectors have now said NHS Lothian must ensure that all patient equipment at the hospital is "clean and ready for use".
Ms Robison is raising the issue when she meets health board chairs, including the chair of NHS Lothian, when she will "reiterate my desire to see standards immediately improve".
A team of HEI inspectors visited the Edinburgh hospital last November, raising " concerns about the cleanliness of the environment and patient equipment" in ward two, where cancer patients are treated, with senior managers.
On the second day of the inspection they highlighted "concerns about the cleanliness of the patient environment and patient equipment on a further two wards", the regional infectious diseases unit and a gastroenterology ward.
The HEI report said there was evidence that the NHS board was not complying with standards to " protect patients, staff and visitors from the risk of acquiring an infection".
It noted the standard of cleanliness of the patient environment was "poor" and stated that the standard of cleanliness of patient equipment was also "poor".
In some wards they found dust on both high and low level areas while there was mould around a shower surround in ward 43 along with mould on shower heads in ward 50.
Of 29 bedframes and handrails that were inspected, 22 were found to be contaminated – with one of these in a room that was being readied to care for a patient with viral haemorrhagic fever in the regional infectious diseases unit.
A total of 16 of the 18 patient armchairs that were looked at were contaminated while 16 out of 21 commodes or toilet seats were contaminated with faeces, blood or body fluids.
Meanwhile, of the 18 mattress covers that were inspected, seven were contaminated, with the inspectors also spotting faecal contamination to patient handrails in toilets and to toilet-roll dispensers in one of the oncology wards.
An HEI team returned to the hospital to carry out an unannounced inspection just over a week later and found "the standard of cleanliness of the patient environment and patient equipment had improved".
Ms Robison said: " This is an extremely disappointing report, showing that standards have fallen well short of what the public and patients expect.
"The inspectors have uncovered simply unacceptable levels of cleanliness and infection control in certain wards, and I will be meeting the chair of NHS Lothian today to reiterate my desire to see standards immediately improve. The improvement plan in place must be delivered urgently."
The Health Secretary said that as standards of cleanliness had " significantly improved" when inspectors returned, this showed "the effectiveness of the rigorous inspection regime, put in place under this government, which is able to highlight failings so boards can act quickly to rectify issues".
But she stated: "T his report demonstrates we must go on driving up standards.
"That is why, when I meet with the chairs of all health boards today, I will reinforce to all of them the importance I attach to these inspections and the findings that arise from them."
HEI chief inspector Susan Brimelow said a team had visited the Western General Hospital on Tuesday November 18 and Wednesday November 19 last year, adding: " Due to significant concerns about the cleanliness of patient equipment and the environment, we escalated our findings to senior management in the hospital.
"We requested that NHS Lothian take immediate action to address these issues and produce an improvement action plan.
"We returned unannounced on Thursday November 27 2014 to assess progress against the improvement action plan and found that significant improvements had been made."
Melanie Johnson, executive nurse director at NHS Lothian, said staff had acted on the inspectors' findings as " a matter of urgency".
She stated: "We recognise that some standards were below those we would expect and I apologise to any patients who may have been affected. I would also like to reassure them that those areas have been rectified.
"Since the first of the visits in November, immediate changes were put in place to address all areas that were singled out for improvement.
"A detailed action plan was drawn up and all points have been completed. Many of these significant improvements were proven during the subsequent unannounced visit by inspectors as is detailed in the report.
"In February, we will also pilot a new model of working which will see some changes to the existing roles of some nursing and domestic staff. It will place a greater emphasis on cleaning around patients' bed areas.
"We have also asked Health Protection Scotland, an independent body designed to provide advice, support and information to health professionals to help protect health, to support our teams. We have asked if they can identify any other areas that can be strengthened or enhanced."
Jenny Marra, Labour's health spokeswoman, said: " There comes a point where the Scottish Government need to accept responsibility for what happens in our NHS.
"The Health Secretary was so eager to announce more funding for the NHS last week that had she was reprimanded by the Presiding Officer for breaking parliamentary rules.
"Now, when we see a bad news story, the finger is pointed at the health board, who are working under extreme pressure. The SNP can't have it both ways: either they take responsibility for our NHS or they don't.
"It is clear our NHS is struggling to cope, that is why Scottish Labour have identified money in the Scottish budget for a frontline fund which would reduce strain on staff and deliver better care.
"If the Health Secretary is truly concerned, she will be lobbying John Swinney to bring an amended budget to Parliament on Wednesday."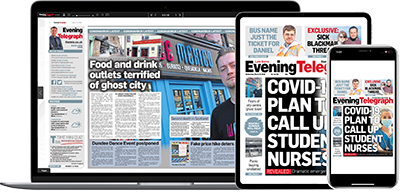 Help support quality local journalism … become a digital subscriber to the Evening Telegraph
Subscribe