An Inverness minister has announced he will leave the Church of Scotland over a series of "unbiblical" decisions by the Kirk.
Rev Andrew McMillan, 38, will depart Dalneigh and Bona at the end of February and plans to establish a new church in the west of Inverness with the Free Church.
The former Royal Marine said the Kirk is setting itself on a "fatal course" with a series of "unbiblical" decisions, including proposals to change religious observance rules in state schools, and criticised its divided stance on assisted suicide.
It is understood Rev Andrew McMillan will become the eleventh former Church of Scotland minister to join the Free Church since 2011.
A number of ministers have left the Church in recent years over proposals to permit the appointment of gay ministers.
Rev McMillan said: "As someone who holds firmly to the teaching of the Bible, there is no way I can remain in the Church of Scotland with any real integrity.
"By walking away from the Bible, the Church of Scotland is setting itself on a fatal course and sadly it appears increasingly likely there will be further deviations in the years ahead on moral, theological and ecclesiastical affairs.
"My call to ministry was to tell people that salvation is to be found in Jesus, not to waste it fighting a denominational war.
"The Free Church has demonstrated a desire to remain unswerving in its commitment to the Bible whilst at the same time trying to ensure that the good news of Jesus Christ is advanced in our contemporary, secularised culture.
"This is exactly why it's the best place for me to continue as a servant of God's word in ministry."
The minister said on the current Scottish Parliament debate on assisted suicide legislation: "In times past, it would be a no-brainer that the Church of Scotland would unanimously oppose the deliberate killing of an innocent life – as the sixth commandment says 'do not kill'.
"Regrettably, even on such a basic issue like this there is deep division amongst ministers."
Following a military career Rev McMillan trained at Edinburgh University before being ordained to Dalneigh and Bona at the beginning of 2012.
A Free Church of Scotland spokesman said: "The Free Church has been looking for a long time to plant another church in the west of Inverness and we are delighted that Rev Andrew McMillan will lead this work.
"We are very much saddened by the present circumstances in the national church but we are thankful that ministers of the calibre and standing of Andrew are coming on board."
Currently, religious observance is compulsory in Scottish schools.
The Church of Scotland last year joined the Scottish Humanist Society in calling for the phrase "religious observance" to be replaced with "time for reflection" in the 1980 Education (Scotland) Act to show that one faith belief system is not promoted over another at assemblies.
The Kirk said it was "saddened" by Rev McMillan's departure and added that arrangements were in place to support the congregation at Dalneigh and Bona.
Acting principal clerk Rev Dr George Whyte said: "The Church of Scotland is a national church and is engaged in wide-ranging debate on matters both practical and spiritual relevant to the life of our nation.
"It is implausible and indeed untrue that the Church proposes to remove Christian worship from state schools.
"The Church will not shrink from its responsibilities to carry out God's work in a way which brings his spirit and message into the lives of its members and wider society."
On the issue of gay ministers, he added: "The Church of Scotland has engaged in a careful theological debate on the subject of ministers in civil partnerships and the overture on this issue will be debated at the General Assembly in May. It would be wrong to pre-judge the outcome of that debate."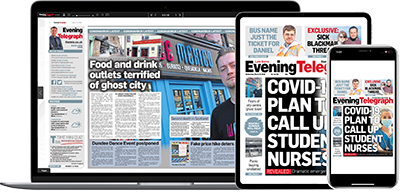 Help support quality local journalism … become a digital subscriber to the Evening Telegraph
Subscribe