The SNP scored a dramatic victory in the first council contest this year north of the border in line with opinion poll findings ahead of May's general election.
Candidate Marie Penman's triumph came at Kirkcaldy East, Fife Council, in the Westminster constituency of former prime minister Gordon Brown, who played a major role in the "No" campaign win at last year's independence referendum.
It comes with just 104 days to the Commons poll.
The outcome was an SNP hold as the party had won one of the ward's three seats in the 2012 main Fife elections.
There was further gloom for mainstream parties with a strong showing by Ukip in the first two English by-elections of 2015.
It came from nowhere to finish just 21 votes behind Labour at Bolsover North West, Bolsover District, Derbyshire.
Ukip also polled 41.3% in a straight fight with Tories at Crowborough West, Wealden District, East Sussex.
RESULTS:
:: Fife Council – Kirkcaldy East: First preference SNP 1460, Lab 1088, C 223, Green 126, Ukip 117, Lib Dem 40, Ind 19, Ind 12. (May 2012 – Four seats first preference Lab 1111, 745, SNP 742, 610, C 224, All Scotland Pensioners Party 180, Lib Dem 104. Elected Lab 2, SNP 1). SNP hold. Swing 12.8% Lab to SNP.
:: Wealden District – Crowborough: C 465, Ukip 327. (May 2011 – Two seats C 1387, 1225, Lab 517). C hold.
From January 9:
:: Bolsover District – Bolsover North West: Lab 174, Ukip 153, C 60. (May 2011 – Two seats Lab 561, 528, C 277). Lab hold. Swing 1.5% Lab to C.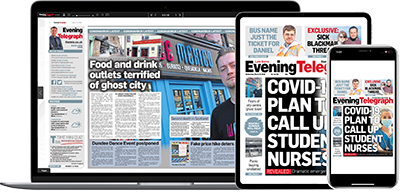 Help support quality local journalism … become a digital subscriber to the Evening Telegraph
Subscribe