There is weakening demand for hotel rooms in Aberdeen as the fall in oil prices hits the industry, a report has found.
Hotels in the city still have the highest average room rates (ARR) in the country at 92.87, but there has been a sharp fall in occupancy rates.
The report from tourism market research specialists LJ Research found ARR in Aberdeen increased by 1.9% last month compared to 2013 but that room occupancy fell by 4.5%.
In Edinburgh, Hogmanay celebrations boosted the capital with the average price for a room at 90.95 last month, up 4.2% on the previous year.
Room rates in Glasgow were also up 6.3% with the impact of the city hosting World Cup Gymnastics and the BBC Sports Personality Of The Year Awards last month highlighted, but occupancy fell slightly by 1.6%.
In Edinburgh, occupancy rates grew by 6.4% compared to the previous year, meaning that revenue per available room (RevPAR), the industry's main performance measure, was up 10.8% in the capital to 71.60.
The fall in occupancy in Aberdeen led to a decline in RevPAR by 2.7% to 57.60.
Sean Morgan, managing director of LJ Research, said: "Our forecast figures show a continuation of weakening demand in Aberdeen. As ministers order an urgent review into the state of the North Sea oil industry it will be interesting to see how this market performs in the coming months."
He added: "2014 has been a very successful year for Scotland's hotels and the tourism industry in general.
"The Commonwealth Games, the Ryder Cup and the independence referendum, in particular, have positioned the country on a global stage and have driven demand for accommodation and it is pleasing to see strong momentum for 2015 in our LJ Forecaster December results.
"Whilst we saw room rate growth in the three cities in December, Edinburgh took the performance lead with very high demand throughout the month as hoteliers concluded the year with a record performance.
"Meanwhile, in Glasgow, there is evidence of significant additional accommodation bookings for the quarter ahead as the city continues to reap the benefit of an increased profile following the Commonwealth Games and the immediate success of the SSE Hydro arena."
Tristan Nesbitt, chairman of the Edinburgh Hotels Association, said: "These statistics are very encouraging and show that Edinburgh benefited from last year's high-profile events including the Commonwealth Games and the Ryder Cup.
"There has been a great deal of effort made to build on Edinburgh's reputation as a world-class destination which has been helped with major investment in many of our hotels combined with an exciting influx of new openings.
"It is essential that we continue to offer an exceptional visitor experience with a diverse and high-quality choice of accommodation and build on the momentum of this exciting time for Scottish tourism."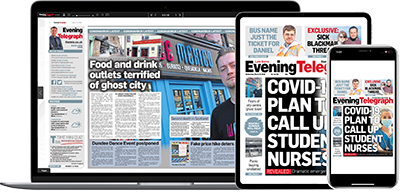 Help support quality local journalism … become a digital subscriber to the Evening Telegraph
Subscribe