Prime Minister David Cameron has acknowledged the concerns of UK oil capital Aberdeen over the drop in oil prices – but said it has been "good news for consumers".
He said NHS spending in Scotland has been protected despite the drop in North Sea taxes thanks to the "broad shoulders" of the UK.
The oil industry is suffering a wave of job losses as oil prices continue to fall amid increasing US production and falling demand in economically struggling countries.
Writing in the Aberdeen-based Press & Journal, Mr Cameron said: "If billions of pounds are wiped off the potential tax returns from North Sea oil and gas, then the broad shoulders of the UK can weather the storm and NHS spending in Scotland can keep on growing.
"I know just how vital the oil and gas industry is for Aberdeen.
"While the drop in oil prices is, of course, good news for consumers, I know for others it holds real concerns.
"That's why the UK Government has engaged fully with the sector on this issue."
Mr Cameron joined Chief Secretary to the Treasury Danny Alexander and Exchequer Secretary to the Treasury Priti Patel at a meeting with key industry representatives yesterday, including government adviser and oil industry veteran Sir Ian Wood.
He added: "Already, we have set out an ambitious package to support this hugely important industry at the Autumn Statement.
"And yesterday, we announced that we are fast-tracking the consultation on an investment allowance – a key request from the industry.
"We will continue to work with oil and gas industry in the months to come.
"This kind of support is possible only because we can draw on the combined strength and resources of the United Kingdom."
The Prime Minister yesterday ruled out making tax changes to help the North Sea in the wake of plummeting oil prices before the next Budget.
Chancellor George Osborne has indicated fresh measures to help the sector are to be included when he announces his final Budget before the election on March 18.
The Treasury also announced it is fast-tracking a consultation on a new tax incentive for oil and gas firms, first announced in the Autumn Statement, which is designed to simplify the existing scheme of field allowances and stimulate offshore investment.
Scottish First Minister Nicola Sturgeon called for more urgent action, including a cut in the tax on profits known as the supplementary charge.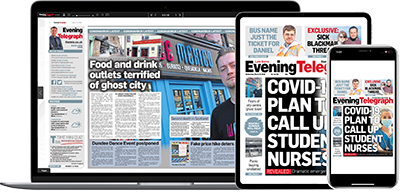 Help support quality local journalism … become a digital subscriber to the Evening Telegraph
Subscribe