Dramatic footage has been released of the rescue of five fishermen moments before their boat sank in rough seas.
Irish vessel the Iuda Naofa started taking on water about 48 miles north of the Isle of Lewis on Monday morning and made a distress call to the coastguard.
A rescue helicopter was sent to the scene and dropped a salvage pump to clear water from the boat, but it was soon swamped and started to sink.
Footage from the coastguard shows the fishermen scrambling on the upturned stern of the boat as a coastguard winchman was sent down his line.
A large wave crashes into the sinking vessel, sending four of the stranded crew into the sea. The last fisherman, close to the boat's still-turning propeller, manages to escape just moments before it is completely submerged.
A winch line had been connected between the helicopter and the boat but it had to be released as the vessel went down to prevent the helicopter being pulled down with it.
The coastguard managed to reach all of the crew stranded in the water. Two men were able to reach another nearby vessel, the Star of Hope, in a rescue raft while t he other three men were airlifted to the Western Isles hospital, where they were treated for mild hypothermia.
Michael O Conghaile was one of the crew, along with his father.
He told the Press & Journal newspaper: "The coastguard said from the moment all five of us were on the stern it took just 35 seconds to go down.
"When I was in the water and holding on to dad, I saw a seagull eating a fish and I was looking at him thinking 'This is just a normal day for you'."
Coastguard duty watch manager Paul Tunstall praised the helicopter crew.
He said: "The weather conditions on scene were very rough, seas with southerly force six winds.
"Evacuating the five crew swiftly and safely before the vessel went down was a great achievement."
Earlier this month, eight crew were lost when a Cypriot-registered ship sunk off the north of Scotland.
The Cemfjord, a cement carrier, capsized in stormy conditions on January 2 while attempting to make its way through the Pentland Firth.
No trace of the seven Polish nationals and one Filipino on board the vessel has been found despite searches.
A church service was held in their memory in Wick, Caithness, at the weekend with candles lit for each of the crew members and their families.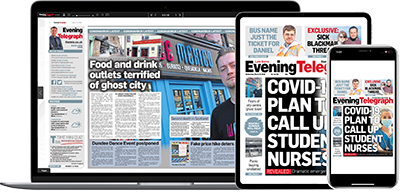 Help support quality local journalism … become a digital subscriber to the Evening Telegraph
Subscribe