The family of a missing grandmother have made an emotional appeal for her return.
Wilhelmina Rooney, known as Anne, was last seen by her husband at their home in East Kilbride, South Lanarkshire, on Monday morning.
A large-scale search was launched for the 71-year-old, with police helicopters and search dogs involved.
Mrs Rooney did go missing around eight years ago for a couple of days, but police said they are particularly concerned for her safety now due to the current bad weather.
There have been some reported sightings in East Kilbride and her bus pass appears to have been used on Glasgow buses, which officers are investigating.
Mrs Rooney's husband Edward, son Paul and daughters Elaine Melrose and Alison Parker appealed for information on her whereabouts at East Kilbride Police station today.
Mrs Parker read a family statement and started by saying: "Hi mum; dad, Paul, Elaine, Arthur and me are all here today to tell you how much we love you and how much we miss you.
"Nothing's the same without you, mum. Your grandchildren, wee Holly, Lauren and Lucy, all miss their gran too. They can't wait to give you hugs and big kisses, they all love you so much.
"Please mum, please come home or just even let us know that you're safe. We promise that there won't be loads of questions when you come back. You're not in any trouble, we just want you back home with us.
"We can fix anything because the Rooneys stick together."
Mrs Parker thanked police and the public for their help so far in the search.
She added: "If you see, or think you see, someone matching my mum's description, please, please, I beg you, lift the phone and contact Police Scotland on 101, thank-you very much."
After finishing the statement, Mrs Parker hugged her sister as they both started to cry.
Mrs Rooney is described as white and around 5ft, with short grey hair, glasses and a ruddy complexion. She was wearing a dark jacket and carrying a purple bag.
Inspector Mark Leonard said: "From the information we have, Anne left at 10 in the morning on Monday and since then there's been no contact. If you think back to the start of the week the weather has been very severe so that made us class this as a high-risk missing person.
"We've got unconfirmed sightings of her on Monday morning within the local Stewartfield area. It appears someone matching her description was seen on CCTV in East Kilbride town centre on Monday and we're getting that firmed up today.
"There appears also to have been activity on her bus card around the east end of Glasgow also on Monday and again local officers are following that up.
There is no evidence of criminality and there had been no reported change in Mrs Rooney's mental state in recent days, Mr Leonard added.
"She did go away for a short time previously but this is purely about the severity of the weather and it being out of character and I would appeal to the public to help us trace Anne."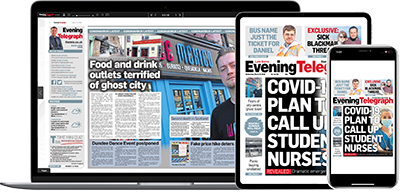 Help support quality local journalism … become a digital subscriber to the Evening Telegraph
Subscribe