Elderly parents could be encouraged to kill themselves by their children to prevent costly care bills eating into their inheritance if assisted suicide is legalised, MSPs have been warned.
Proposals to allow sick people – including teenagers as young as 16 and elderly people – to seek help to end their own lives have been attacked by palliative care experts and religious groups.
The Assisted Suicide (Scotland) Bill is "dangerously naive" and so vague it could legalise assisted suicide by loaded gun, experts said in submissions to Holyrood's Health Committee.
Dr Stephen Hutchison, consultant physician in palliative medicine at the Highland Hospice in Inverness, said: "In the UK, elder abuse affects over half a million people, with the perpetrators commonly being friends or family.
"In the face of chronic illness and dependence, and the prospect of expensive care eroding the family's inheritance, the availability of assisted suicide could create further risk to the frail and elderly and expose them to unhealthy societal and internal pressures."
International evidence suggests the legalisation of assisted suicide could be the start of a "slippery slope" to a wider acceptance of suicide for non-life limiting conditions, he added.
He said: "The relaxation of criteria and disregard for the law as seen elsewhere is almost certain to be replicated here if assisted suicide was to be legalised. To argue otherwise is dangerously naive."
In Belgium, a transsexual was euthanised following a failed sex change, deaf twins ended their lives because they feared going blind, while a women with depression and another woman with anorexia died by euthanasia, he said.
An elderly Italian lady received assisted suicide in Switzerland "because she was distressed about losing her looks", and another sought death "because she felt unable to adjust to the modern world", he said.
One doctor in Oregon "encouraged a sick man to have assisted suicide, much to the alarm of his wife" but he went on to live a further five years, he said.
Professor Marie Fallon and Dr David Jeffrey said the Bill "represents a paradigm shift in medical ethics which will have a damaging effect on the doctor-patient relationship".
They said: "The Bill is alarmingly vague as to the means of suicide. As it stands, could it include supplying the patient with a loaded gun?"
The Muslim Council of Scotland said: "Evidence shows that wherever assisted suicide is legalised, it inevitably leads to increasingly more people becoming eligible to end their lives prematurely, the recent example of Belgium's extension of euthanasia to children confirming that in this area the slippery slope is real."
The Children's Hospice Association said: "For neuro-developmental reasons, young people up to the age of about 25 years old do not fully associate their own death with permanent erasure from existence.
"This is extremely important because it means a young person might ask for assisted suicide for reasons that have nothing to do with an actual desire to die in the sense that death is understood by older adults."
The experts will give evidence to the Health Committee on Tuesday.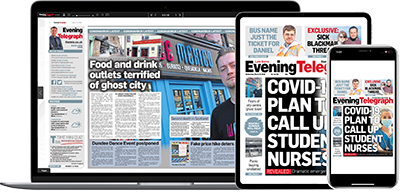 Help support quality local journalism … become a digital subscriber to the Evening Telegraph
Subscribe