Supermarket chain Lidl plans to create 500 jobs in Scotland over the next 12 months as part of expansion plans north of the border.
It aims to build at least three new stores and refurbish or relocate existing stores as part of its plans.
Lidl has also applied to West Lothian Council to relocate its Scottish regional distribution centre (RDC) from Livingston to a site in Armadale which would open in 2016.
The new RDC would have a warehouse area of more than 71,000 sq metres, compared to around 28,000 sq metres at the current site.
The chain said the decision to expand the Scottish RDC follows four consecutive years of growth for Lidl in the UK.
Turnover reached 3.3 billion in 2013 and sales have increased by 20% over the last 12 months.
Ross Millar, Lidl's managing director in Scotland, said: "We're focused on one single goal – ensuring our customers receive the freshest, highest-quality products possible at the best value.
"This latest phase in our growth is a testament to the continuing success of Lidl in Scotland. People all over the country are realising they can make huge savings on their weekly grocery shop with us, without compromising on quality.
"The opening of our 90th store in Scotland marked our 20th year of operating here and, along with our planned investment over the next 12 months, signifies our commitment to Scotland and the communities which we are proud to serve."
Lidl already has an 1,800-strong workforce in Scotland.
It operates more than 610 stores and nine regional distribution centres in England, Wales and Scotland.
Commenting on the Scottish RDC plans, Livingston warehouse manager Iain Hunter said: "The rise in customer numbers and increase in sales means we are operating an even busier warehouse than ever before.
"We are now shipping more and more stock every day to our store network across Scotland and, as a result, we now require a new, larger warehouse to cope with the demand and anticipated future growth."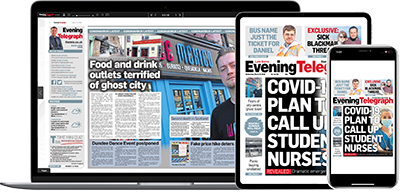 Help support quality local journalism … become a digital subscriber to the Evening Telegraph
Subscribe