More than 50 prisoners released on parole were recalled to custody last year, according to new figures.
The Parole Board for Scotland said 75 prisoners were referred back to the board after potentially breaching their licence having being granted parole.
Of these, 53 were recalled to custody, according to the board's a nnual report 2013-14, up from 18 the previous year.
Eighty "non-parole" licencees – such as those released having served two-thirds of their sentence – were recalled to custody after their behaviour in the community gave rise to concern.
This was down from 88 in 2012-13.
A third of prisoner cases referred to the board were recommended for release, with 139 out of 426 (33%) cases approved, down from 169 of 423 (40%) in 2012-13.
Parole Board chairman John Watt said: "Whilst the board deals routinely with the worst behaviours our communities experience, it also has an opportunity to observe the very real progress which some prisoners make during their sentences.
"Where this occurs it is often as a result of the opportunities which prisoners are given to learn skills and understand what motivated their offending behaviour. Many of these prisoners are able to return to a crime-free life.
"However, many are unable to make the necessary change or to sustain change for a number of different reasons. In such cases, it is the board's responsibility to ensure that every possible step is taken to limit risk and this does result in offenders being returned to custody.
"This is a matter to which members bring huge amounts of experience and expertise from their varying backgrounds. I believe that Scotland's communities can feel assured that their best interests underpin the decisions which board members make day in and day out, always with great care."
He said that the overriding consideration for the board is whether the risk posed by a prisoner can be safely managed in the community.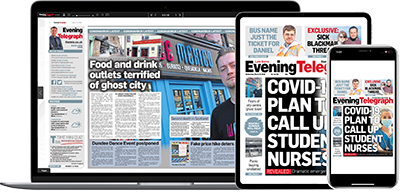 Help support quality local journalism … become a digital subscriber to the Evening Telegraph
Subscribe