Home owners can typically expect to create a windfall of more than 100,000 by downsizing to a smaller property such as a semi-detached home or a bungalow, research has found.
Those trading down from a detached home, perhaps because their children have flown the nest and they are looking towards their retirement, can free up 103,715 on average by moving to a bungalow or 121,686 by moving to a semi-detached home, according to analysis by Lloyds Bank.
As the housing market recovery continues, Lloyds found that downsizing is the key driver of property moves for existing home owners, with more than half (52%) of home owners who are planning to sell their home in the next three years saying they would like to move to a smaller house.
Of those who expect to have some spare cash left over when they downsize, 43% plan to reinvest the money in a new property, 26% plan to put the money into other financial products and 13% said they will invest in their pension. A further 13% said they would use the money to give financial help to family members.
The main reason people said they wanted to downsize was to find a property that was more suitable for their circumstances.
After this, the reasons were largely financial, with 40% of people saying they want to cut their household bills, 28% wanting to release equity from their property and 25% looking to boost their retirement incomes.
In cash terms, downsizers in London, which saw particularly strong growth in house prices last year, potentially have the most to gain from moving to a smaller property. Someone living in London could make almost 290,000 typically from trading down from a detached home into a bungalow, the research found.
Andy Hulme, mortgages director at Lloyds Bank, said: "Downsizing is clearly still a major part of the housing market, with over half of potential home movers considering a smaller property.
"The volume of downsizers is therefore helping to keep the market moving, freeing up larger properties for those making their way up the ladder."
The figures were calculated using the house price database of Lloyds' sister bank, Halifax. A survey of around 1,000 home owners was also carried out.
Moving costs, such as stamp duty, legal fees and hiring a removal firm, were not included in the calculations, so these are extra expenses which people would also have to bear in mind when weighing up the potential cost benefits of downsizing.
But the Government's recent overhaul of stamp duty has reduced the cost of the tax for the majority of home buyers who are liable to pay it.
The findings come as many older people are looking forward to enjoying greater freedom over their pension pots from this April.
New rules will enable people aged 55 and over with a defined contribution (DC) pension pot to take their money how they wish, without being herded towards buying a retirement income called an annuity. People will be able to dip into their money as they wish, subject to their marginal rate of tax in that year.
Here are the amounts of money that people could typically make from downsizing from a detached home to a bungalow in each region, according to research from Lloyds Bank:
:: East Anglia, 88,831
:: South West, 93,874
:: Northern Ireland, 50,912
:: North, 70,044
:: Scotland, 65,971
:: West Midlands 75,428
:: South East, 169,508
:: Yorkshire and the Humber, 75,887
:: East Midlands, 67,711
:: Wales, 64,327
:: North West, 76,193
:: London, 289,927
:: UK, 103,715
And here are the amounts of money that people could typically make from downsizing from a detached home to a semi-detached home:
:: South West, 126,737
:: North, 100,638
:: Scotland, 101,805
:: Northern Ireland, 70,669
:: East Anglia, 102,844
:: South East, 191,955
:: Yorkshire and the Humber, 105,865
:: East Midlands, 100,465
:: Wales, 91,244
:: West Midlands, 111,540
:: North West, 103,754
:: London, 237,614
:: UK, 121,686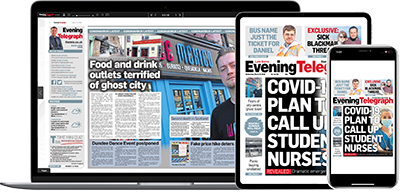 Help support quality local journalism … become a digital subscriber to the Evening Telegraph
Subscribe