A documentary showing the story a Dundee American football team dubbed the worst in Britain is due to be released in March.
'Bend Don't Break' follows the fortunes of the hapless Dundee Hurricanes as they rebuild the club after their winless season in 2013.
Losing 10 games out of 10, the feat earned them the accolade of the worst team in the country.
Owner of Fife-based Buy The Ticket Productions Alex Harron who made the film told the Tele the reasons behind it.
He said: "I always had an interest in American football and I couldn't believe it when I found there was a team in Dundee.
"I initially thought about doing a short film but when I heard the story of last season, on how they lost every game, had the worst record in the UK and then saw the enthusiasm and effort from the guys in pre-season and I thought it would make a great feature length documentary."
Now that filming has finished Alex, who is also the director has revealed he has had talks with Sky and the BBC about it being broadcast on TV.
Speaking to the Tele, Alex Harron, owner of Fife-based Buy The Ticket Productions, said: "We've finished filming the team and are editing the film now. We aim to premiere at the DCA in March.
"We have had talks with Sky Sports, the BBC and Community Channel about a television broadcast, too."
Buy The Ticket Productions has experience in producing documentaries with similarities to gridiron football with a similar project looking at amateur wrestling making an impact on the BBC website.WARNING: The above video contains a couple instances of swearing.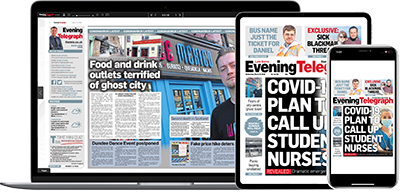 Help support quality local journalism … become a digital subscriber to the Evening Telegraph
Subscribe