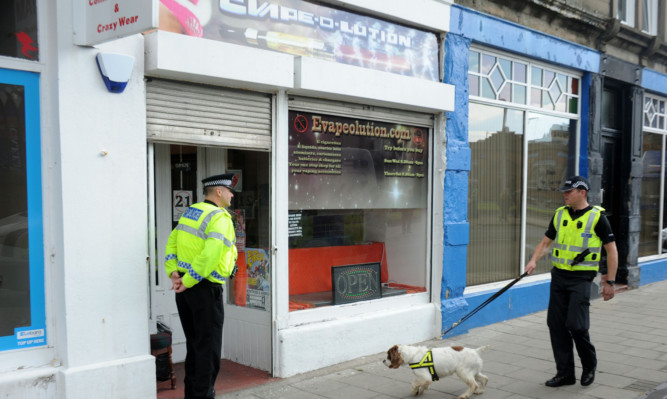 The owner of three legal high shops around Tayside has conceded defeat in selling the controversial products.
Liston Pacitti, 25, declared that although his Evape-o-lution shop in Arbroath is not closed for good, it is "unlikely" he will sell Novel Psychoactive Substances (NPS) in the premises again.
He also announced that due to "persistent harassment" from the authorities his other Evape-o-lution shop in Montrose and the This 'n' That store in Perth will stop selling the items, too, in the "long term".
Just weeks after telling the Tele his Arbroath shop would "not be changing what the shops sells we're just spending a couple of weeks renovating," he has now performed a U-turn.
He said: "It was our intention to carry on selling them (legal highs), but it's unlikely now. We've had constant harassment from the authorities and it appears they (legal highs) will eventually be made illegal.
"Part of the reason was that there was also a lot more irresponsible use of them in Arbroath people who would abuse the products.
"We are considering our options with what to do in Arbroath, there is a possibility it could close down, but we're also looking into selling much more e-cigarettes there instead.
"We will continue to sell NPS at the other shops for now, but probably not for long.
"In the long term we want to just sell e-cigarettes. It always has been the long term plan to make the transition into just e-cigarettes, we just have to look at the sustainability."
Mr Pacitti claimed that even if selling legal highs in shops becomes illegal, users will turn to other avenues to buy them. "People will just go to the internet instead, it won't stop people from using them," he said.
In July, police swooped on the Arbroath shop as part of a crackdown against legal highs. After a search warrant was granted, 10 officers and a sniffer dog rushed into the Brothock Bridge branch as part of Operation Carinate. The raids came at the start of a campaign mounted by police along with trading standards officers, health boards and drugs agencies.
While it is not illegal to sell NPS, a trader could be prosecuted if they are found to be selling them knowing the customer will consume them.