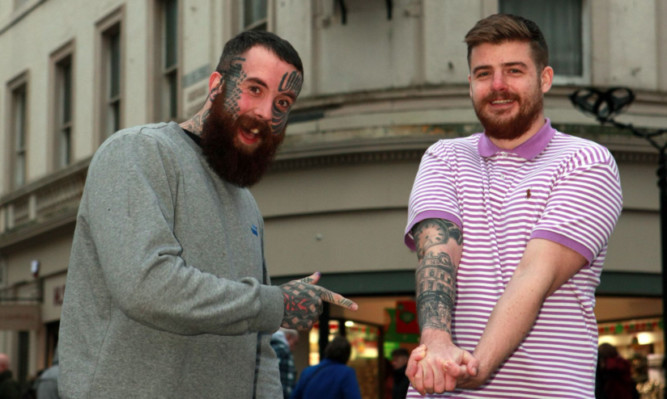 A tattoo artist behind an incredible piece of body art depicting a piece of Dundee history today told of his joy at the finished article.
The detailed design adorning Jamie Shankland's arm shows a busy street scene on the corner of High Street and Reform Street, known locally as Boots Corner.
The man who created the artwork is Calum Stewart, who works at Metalurgey on Dock Street.
He says it was one of the most complicated designs he has ever worked on.
"Because of the amount of detail needed in such a small area, it was very difficult to do.
"The heads are all the size of five pence pieces.
"When Jamie first brought in the image he wanted, I have to admit I didn't think it could be done, but Jamie had confidence, so I gave it a go.
"I'm really, really happy with how it turned out.
"It's one of the most challenging things I've ever done, and for such a difficult area of the body to work on, I think it looks great."
Jamie who spent a total of 15 hours in the tattooist's chair said: "I'm over-the-moon with the results.
"Obviously, Calum is the one who put the hard work in, but I had to endure the pain.
And Jamie has already decided on what he's next having done an old-style hot air balloon, soaring over the Tay.
"It's all part of a theme about reaching your dreams, about where you've come from and where you're going," he said.
"My body is essentially a blank canvas at the moment, and I'm aiming to get every area I can tattooed. As long as it can be covered up."
Jamie, 25, decided to have the tattoo done because of his Dundee roots, and the meaning of the image.
He said: "That area has always been the meeting point for people in Dundee.
"Back in the day, people coming home from war would arrive in the city and meet their loved ones there, and people still meet there now.
"It sums up the history and heritage of Dundee, but it also shows how little the place has changed.
"I wanted to keep it Dundee because I'm proud of where I'm from."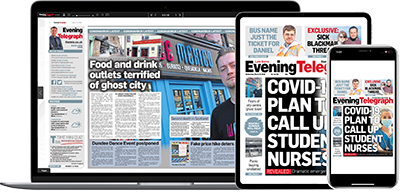 Help support quality local journalism … become a digital subscriber to the Evening Telegraph
Subscribe