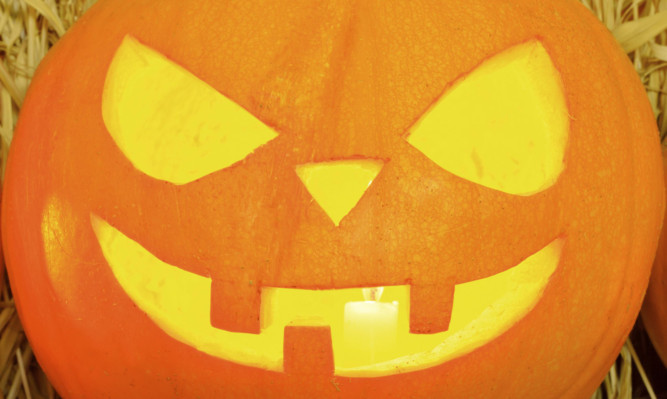 It might be the spookiest night of the year, but Halloween is generally a night of fun and lots of sugar.
But for a few Tayside families, October 31 saw them become the targets of vandals and youngsters out to cause chaos.
Posts on Facebook community pages for Arbroath and Broughty Ferry told the darker side of guising, as homes and people were pelted with eggs and had decorations ruined.
One woman said: "My daughter spent hours carving pumpkins and decorating her house for all the trick or treaters.
"She bought bucket loads of sweets and treats and all for our grandson Derry. He took great delight in running to the door to all the kids in costumes.
"Then later on some older kids probably in their teens came to the door. My daughter apologised and said she had no more left so they smashed up all the decorations and all Derry's pumpkins
"My daughter had to shut the door and phoned the police. They are devastated."
Another person said that their child had been hit by eggs.
"My wife was at her parents house in Balgillo Park on Friday evening with our young children.
"Our 23-month-old son and six-month-old daughter were in the house with my wife and MIL [mother-in-law].
The doorbell rang at about 7.15pm and was answered as the house was kitted out to welcome all the Halloween guisers. At the doorstep stood a boy dressed in his own clothes (orange Superdry-type hoodie jacket with white zip and white tie cords, jeans) and a rubber duck full head mask.
"At the bottom of the front garden spread out in a row facing the house were three or four other boys all wearing various similar type animal head masks.
"My wife greeted the guisers, commented on their costumes, even venturing to say that they were quite scary. By this time our son (still dressed in his buzz lightyear costume) was at her side at the door. The 'guisers' stood completely still, staring directly ahead for about 30 secs, and still not saying a word, began to launch eggs at the house and at my wife, son and MIL who were standing in the open doorway.
"The eggs pelted the exterior of the house, covered the interior with splatters down interior doors, on the ceiling, making it as far as the lounge carpet, sofa and cushions. Worst of all my son in the doorway was hit leaving his costume and his hair dripping with egg and broken shell. He is not even two-years-old.
"They then turned and fled towards the park at East Balgillo Road. My wife caught the lead duck head boy who was at the door and grabbed him by the arm, he then took off his mask, asked her to let him go, attempted to pelt her with more eggs and then got free. They ran off towards Rossie Ave. We understand the same group targeted other houses in Balgillo Park."
He added that they had contacted police about the incident.
A pensioner's home was also targeted by egg-throwers.
"My 81-year-old father had his front window in Barnhill area pelted with eggs last night.
"Thing is he has gone out shopping for kids that may visit. I suspect he may not have heard the doorbell on one or two occasions so some felt ignored."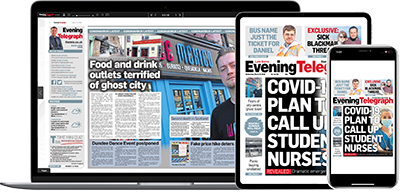 Help support quality local journalism … become a digital subscriber to the Evening Telegraph
For as little as £5.99 a month you can access all of our content, including Premium articles.
Subscribe