The final Arbroath Relay for Life fundraising tally has been revealed as a record-breaking 155,026.
At a wrap party hosted by O'Brien's Pleasureland, the figure was held up by committee members on display boards.
A stunning 136,820 was raised for Cancer Research UK following last month's Relay for Life at Arbroath Cricket Club but more money kept coming in.
Relay chairman Ian Angus said it was hard to find adequate words to praise the many people who made it happen.
He said: "Back in late May, we realised that we had exceeded last year's total with a full four months to go. We dared to dream. As we entered September, with our amazing teams still busy fundraising, we knew then we were involved in something really special.
"We started to believe that 100,000 was within our reach.
"On the Sunday of Relay, when we announced the sum total at that point, with some cash to come in, we expected that to grow a bit.
"Knowing by now what our outstanding relay fundraisers are capable of, our thoughts turned to the next magical milestone and we seriously started to hope for a figure of 150,000.
"We really should have known they would go one better."
Ian said he has run out of superlatives to describe the "amazing, fantastic, phenomenal relayers" and "a town that has done so much to support this great cause of ours".
He praised everyone who took part, thanked Arbroath Cricket Club for hosting the event and hailed the support of local businesses.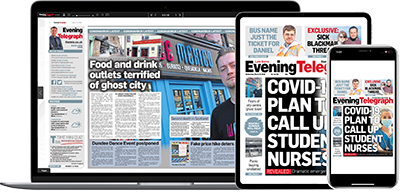 Help support quality local journalism … become a digital subscriber to the Evening Telegraph
For as little as £5.99 a month you can access all of our content, including Premium articles.
Subscribe