An Angus swimming pool has been closed after tests found the presence of the potentially dangerous cryptosporidium bug.
The investigation by Angus Council and NHS Tayside at Arbroath Sports Centre's swimming pool was launched after a "handful" of people presented with symptoms of the painful disease caused by the parasitic organism.
All have made or are believed to be making a full recovery.
The common denominator in their complaint was the pool and Angus Council moved swiftly to close it so checks could be carried out.
A council spokesman said: "Angus Council and NHS Tayside have been investigating a small number of recent cryptosporidium cases.
"Early investigations identified that some of those affected had recently used the swimming pool at Arbroath Sports Centre.
"The council took the precaution of closing the pool while further investigations were carried out.
"Tests have now found cryptosporidium in the pool and the pool will remain closed until all remedial works have been completed."
Cryptosporidium is spread through contact with infected food, water and animals. While most cases are mild, the bug can cause diarrhoea, vomiting, stomach cramps and a fever.
The disease can be particularly severe in those whose immune systems are compromised.
Anyone diagnosed with cryptosporidium should not use swimming pools until two weeks after their symptoms have cleared.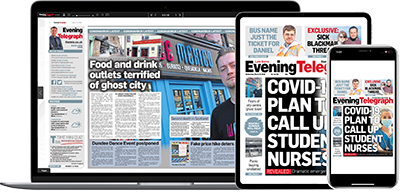 Help support quality local journalism … become a digital subscriber to the Evening Telegraph
For as little as £5.99 a month you can access all of our content, including Premium articles.
Subscribe