Home is where the ham is for a rescued pig starting a new life in Tayside.
Lucy the house-trained micro pig found herself looking for somewhere else to live because her owner was struggling to cope.
And first in 'loin' to save her bacon was Louise Nicoll, the owner of Newton of Fothringham Farm, north of Dundee.
Louise said she was "so happy" to offer the seven-month-old, cat-sized pig a home following a request from Dundee Trading Standards.
She said: "Lucy has been very well cared for.
"I was contacted by Dundee City Council because I'd helped to rehome three goats from Fife Animal Park earlier in the year.
"As well as a farm, we also operate as a bed and breakfast and have rehomed lots of other animals, such as alpacas, that our guests enjoy seeing."
Louise explained that Lucy has managed to fit in well as a member of the family.
"Lucy is a right little character," she said.
"She has been kept in the house her whole life until we got her so she was a little hesitant at first, but now she trots out to the garden to explore.
"She already jumps up on your lap when you're on the couch and loves to watch the TV.
"We are hopefully going to try to get her a more normal pig lifestyle and get her more used to going outdoors."
Louise said the other pets in the house had mixed views on the new arrival. She said: "The dog has taken to her, though the cat is more hesitant but only because she is confused about what Lucy is."
In recent years, micro pigs have become one of the latest pet crazes across the country.
Although cute, readers should be aware that micro pigs require a licence and are subject to the same controls as pigs kept on farms.
Councillor Craig Melville, Dundee City Council environment convener, said: "Although Dundee is predominantly an urban area, our officers still have responsibilities for animal health and welfare, and that includes protecting domestic pets as well as livestock.
"This is a great example of council officers working together with partners in other agencies to ensure that animals are housed in the most suitable surroundings."
Officers from the council's environment department's trading standards team assisted the SSPCA in an investigation earlier this year into the Dundee house where the pig was kept.
A spokesman for the local authority said: "The council has duties, along with the SSPCA, as an enforcer under the Animal Health and Welfare (Scotland) Act 2006. It was decided that the pig should be rehomed in this case and has now been taken on by a new owner."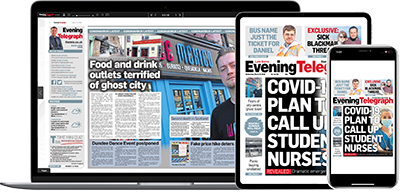 Help support quality local journalism … become a digital subscriber to the Evening Telegraph
Subscribe