Moves are afoot to allow some of the golf money made in Carnoustie to "help its townsfolk".
A meeting of the full Angus Council approved plans to create a sub-committee of the Carnoustie Golf Links Management Committee.
CGLMC Limited, which manages the links and has charitable status, now has an agency to consider making contributions from financial surplus to local charitable projects.
At Forfar's Town and County Buildings, local councillor Brian Boyd said the town will have the advantage of something akin to a common good fund.
A meeting of the council on November 1 last year allowed the application for charitable status, with the prospect that 50% of tax savings be donated to local community purposes.
However, the company itself is unable to make such a binding commitment as the directors have a primary duty to act in the best interests of the company.
To address this, the sub-committee will consider potential local charitable projects worthy of support on a year-to-year basis, each on its merits.
General manager of Carnoustie Golf Links, Graeme Duncan, said: "Carnoustie Golf Links are in the process of applying to the Office of the Scottish Charity Regulator for charitable status.
"In the event of success, Carnoustie Golf Links have agreed with Angus Council that they will set up a sub-committee."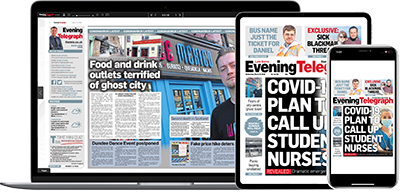 Help support quality local journalism … become a digital subscriber to the Evening Telegraph
For as little as £5.99 a month you can access all of our content, including Premium articles.
Subscribe