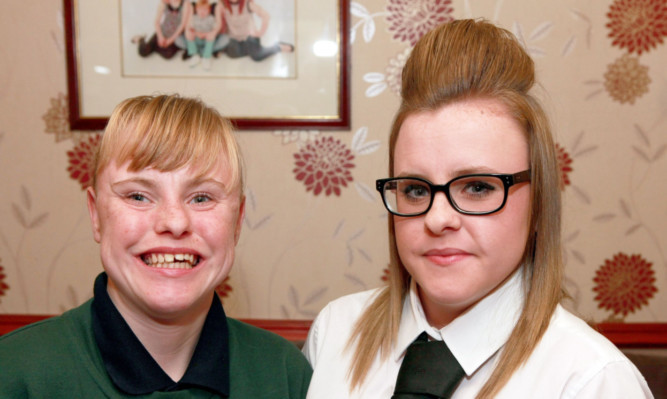 When they came in to the world they were among the smallest babies ever to be born at Ninewells and were not expected to survive.
But this year, twins Sarah and Rachel Bichard, from Ardler, are celebrating their 16th birthdays and looking forward to a fantastic future.
The girls were born 15 weeks premature on October 14 1998 and suffered severe complications.
Both babies were on ventilators and when they were just a few weeks old, had to be taken to the Royal Hospital for Sick Children in Edinburgh where they had operations to close a heart duct and also underwent laser surgery for eye problems.
Rachel was allowed home after three months, but parents Mandy and Paul faced an agonising wait as sister Sarah remained in hospital battling a series of health problems including the potentially deadly septicaemia.
But today they're looking forward to dancing with friends at their birthday party next week.
Rachel said: "I'm excited. I ordered my dress and my shoes the other night. I'm getting a spray tan and my nails done too."
The Baldragon pupil suffers from bowel incontinence as a result of being premature and underwent surgery near the end of primary school to attempt to make the problem easier to live with.
"It was in P6 I got the surgery," explained Rachel. "I do get embarrassed sometimes, but I manage OK."
Although her condition requires lifelong maintenance, Rachel is an active dancer and wants to be a holiday entertainer. She's involved in Dundee Junior Showtime, teaches dancing and will be playing the lead role of Snow White in a production at the Bonar Hall next month.
"I was going to go down the road of beauty therapy, but I love dancing and singing and acting and working with kids, so I think it would be fun," said Rachel.
"When you go on holiday and you get the entertainment reps who entertain the kids that's what I want to do."
Her twin sister Sarah, who attends Kingspark School, plays for the Dundee United Social Club and is currently in London competing with her team.
"Sarah was on oxygen until she was about five years old," said mum Mandy, 45, "But she plays for Dundee United now!"
Sarah added: "When I finish school I want to be a football manager."
While the twins have managed to overcome many of the difficulties of their early years including heart operations their older sister Rebecca, 16, who was also born premature, has recently been diagnosed with epilepsy.
But hairdresser Mandy says she's just grateful for the hard work of the staff at Ninewells Hospital all those years ago.
She said: "The work they did at SCBU Sarah and Rachel wouldn't be here today if it wasn't for them. When we see the consultants they can't believe how well they're doing."