A 4.7m plan to convert an abandoned Forfar school into "urgently needed" affordable housing has taken a big step forward.
Angus councillors will be asked next week to approve the plans for 29 new properties at the former Chapelpark Primary School on Academy Street.
Members of the Communities Commitee will hear from the council's head of technical and property services, Ian Cochrane, that money for the project at the grade B listed building has now become available.
"As part of the Scottish Government's affordable housing programme Angus Council has received grant funding to assist in meeting the affordable housing supply programme," said Mr Cochrane.
"This funding will allow Angus Council to provide urgently needed new, affordable, rented housing to meet current and increasing future demands.
"The 29 new properties proposed are an integral part of the programme and are part of the council's new affordable housing provision," he added.
If the committee approve the plans, work on the housing could begin in December 2015 and be completed by March 2017.
In his report Mr Cochrane said it is hoped to provide 25 flats and four terraced houses. There will be 18 one-bedroom flats, six two-bedroom flats and one three-bedroom flat.
Of these, 16 will be developed in the old school building and the remainder on the site of a former annexe to the school, which will be partially demolished to make way for the houses.
Mr Cochrane is to ask councillors to approve 300,000 funding for the project from the council's Affordable Housing Account.
"The funding for this project will comprise 1.3 million from the Scottish Government Affordable Housing Grant, 300,000 from the council's Affordable Housing Account and just over 3m from the Housing Revenue Account capital budget."
Whilst it was hoped the property could be sold privately, estate agents didn't receive a single bid in four years of advertising the school for 200,000.
Over the last year, Angus Council has made moves to ensure many of the county's empty historic buildings can be put to better use.
A report released last year revealed one in 10 Angus school buildings were empty and in "poor condition" whilst the demand for affordable housing in Angus continued to rise.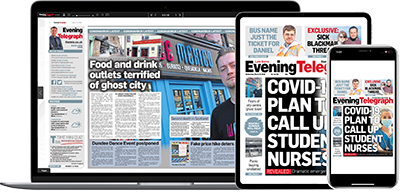 Help support quality local journalism … become a digital subscriber to the Evening Telegraph
For as little as £5.99 a month you can access all of our content, including Premium articles.
Subscribe