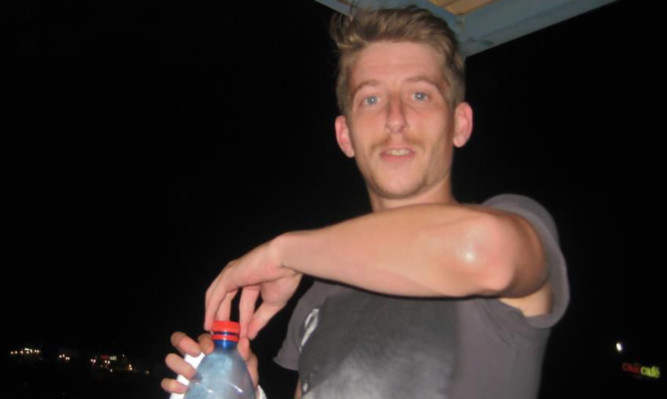 A Tayside man has gone missing in Portugal and his family have demanded more efforts from police to find him.
Jon Anderson Edwards, 31, had been living and working in the country since last month and was working as a chef in Lagos when he disappeared without trace from his accommodation on September 15.
The Arbroath man's belongings including his passport and mobile phone were left behind and his family are "desperate" for information that could lead to his location.
Police officers are in regular contact with Jon's mum Lesley Edwards, who is set to fly out to Portugal tomorrow to join her daughter Kenna Balion, who touched down in Portugal yesterday.
Kenna, 30, said she is extremely worried for the welfare of her brother and is spent Thursday visiting police stations, hospitals and Jon's pals for any clues.
She told the Tele: "I took a plane from Edinburgh airport at about half eight this [Thursda] morning and I've just landed at Faro Airport to try to find out what has happened to Jon.
"Jon is a bit of a wanderer, but he usually takes all his belongings with him and he never goes missing for this long.
"He would always take his passport, phone and wallet so it does sound suspicious."
Lagos businessman Dago Lipke, the former Arbroath Academy pupil's employer at the Rockfood caf in Lagos, where he had been working as a sous chef, reported Jon missing on September 19 when he failed to turn up for work for a number of days.
Jon is thought to have banged his head a few days before becoming ill and Kenna is hoping she will find him at a local hospital.
She said: "My partner's dad is a doctor and he believes that Jon may have hit his head so hard that over the next few days a blood clot has developed on the brain and caused so much pressure that he's passed out.
"He was apparently vomiting after hitting his head, so he could have collapsed somewhere and been rushed to hospital.
"If that is the case, the doctors would have put him in a medically-induced coma to relieve the pressure on the brain.
"To be honest, that's what I'm hoping for. That's the best case scenario at the moment."
Mr Lipke added: "The police have been in contact with me a couple of times.
"They are investigating the disappearance, but they haven't told me very much about what's going on it's a mystery.
"All the information doesn't make sense all we know is that he disappeared and left his passport and mobile phone.
"It is very unusual for him.
"He is a quiet person, but was doing very well at work. I talked to him the evening before the disappearance to ask him how he was and how the job was going for him.
"He said he was so happy and that it was by far the best job he'd had.
"He said he liked the other staff and he had a good relationship with them. Then I heard that he'd fallen on his head. He came into work for 10 minutes and was vomiting, and then he left.
"When I talked to him I said I thought he should go to hospital, but he said 'no it's ok, I feel better already'.
"Lots of people here are talking about it, everybody is very concerned.
"I hope he is found soon."
A spokesman for Police Scotland said: "We are aware of the situation and officers in Arbroath are liaising with the family and our colleagues in Portugal."