First aid at Angus schools and nurseries is being shaken up ahead of a campaign going before the Scottish Government.
Trainer George Carruthers is compiling lists of how many first aid-trained staff are in Scotland's schools, with a view to petitioning Holyrood for stricter regulation.
Angus Council has stated it is already in the process of changing "old-style" training.
Mr Carruthers said: "I am trying to get the Government to change the legislation to require every childcare professional to be trained in two-day paediatric first aid, which is specific to children.
"All childminders must have paediatric first aid, but schools and nurseries don't."
He is looking into the number of first aid-trained personnel at schools and nurseries, as well as how many of those are trained to emergency and paediatric standards.
Mr Carruthers is obtaining numbers of trained personnel in each school and said the information would go on a petition to the Scottish Government and health secretary.
A similar campaigning organisation, Millie's Trust, is lobbying for changes to the law in England.
In its figures, Angus nurseries are part of the council's early years provision and are linked to schools.
The local authority could not state whether its staff are one-day or three-day trained, where the latter covers spinal fractures and other serious injuries.
A spokesman said: "The council's safety manager has explained that existing first aiders are trained to the old-style First Aid at Work and Emergency First Aid at Work syllabi, but we do not feel that this delivers the appropriate skills for each setting, so we will now deliver bespoke training, tailored to the environment of each setting.
"We feel that this is a much more competent approach than delivering work activity-targeted, generic training in non-work settings. This new approach is only in the first stages of being rolled out."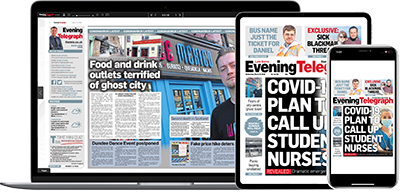 Help support quality local journalism … become a digital subscriber to the Evening Telegraph
For as little as £5.99 a month you can access all of our content, including Premium articles.
Subscribe