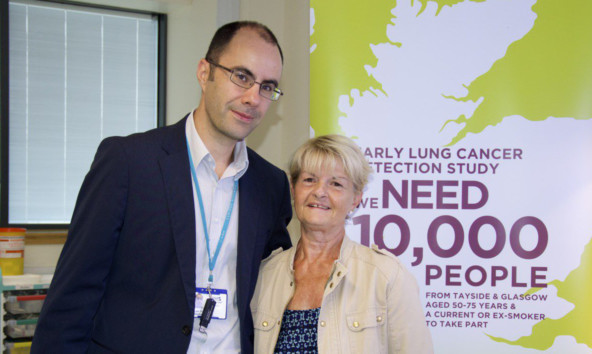 A woman discovered she had a tumour lurking in her lung while taking part in an experimental research project at Dundee University.
When Shirley Dolan, 58, volunteered to take part in the Early Lung Cancer Detection Study, she had no idea the blood she submitted held a deadly secret.
If the tumour had been left undetected for much longer, it would have radically reduced her chances of survival.
She said: "I never even had a cough. Without the test, we would never have known, and with lung cancer, by the time people feel symptoms, it is usually too late.
Shirley, from St Mary's, had been invited to participate in the cancer research programme by her GP, because she belonged to a demographic smokers and ex-smokers aged 50-75 who are considered high risk for the disease.
Because she took part in the project her tumour was detected at an early enough stage to allow surgical removal.
"Basically, you give a blood sample and it's checked against a newly developed test for lung cancer," explained Shirley.
"It was because I joined this study and submitted the blood test that we found my cancer at an early stage. I hope my story encourages others to join up."
The University of Dundee's Dr Stuart Schembri is the co-chief investigator of the study, which is being conducted in collaboration with researchers in Glasgow, Nottingham, NHS Scotland and the Tayside Clinical Trials Unit.
They hope to recruit a total of 10,000 participants from Tayside and Greater Glasgow and Clyde by January 2015.
"Lung cancer kills more people than any other cancer, with 5,000 people in Scotland dying from the disease every year," explained Dr Schembri.
"There are often few symptoms until the cancer has been growing for a long time and perhaps spread.
"So, out of every 10 people found to have lung cancer, nine are unfortunately inoperable."
The study involves a simple blood test called EarlyCDT-Lung which can identify lung cancer at a stage where it can be treated and hopefully cured.
Shirley was officially diagnosed with lung cancer in May this year and received surgery two months later. She hopes to be back at work at Ninewells day surgery unit next month, although she will receive follow-up monitoring for several years.
Anyone wishing to take part in the research should contact the Tayside study team on 01382 383060.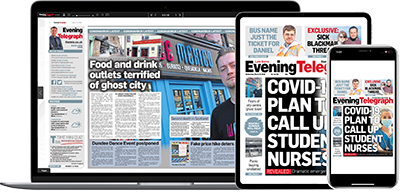 Help support quality local journalism … become a digital subscriber to the Evening Telegraph
Subscribe