Fife has voted overwhelmingly to stay part of the UK in the Scottish independence referendum.
Following significant delays caused by computer glitches during the count result at the Michael Woods Sport and Leisure Centre in Glenrothes, it was announced at 6.10am that 139,788 Fife voters had voted No (55%) with 114,148 voting Yes (45%).
There were 226 rejected papers comprising 53 marked Yes and No, 12 discarded because of written marks and 161 declared unmarked or void.
Turnout in Fife was confirmed as 84.1%, with 254,162 out of a potential 302,108 registered voters.
Better Together campaigner, Dunfermline and West Fife Labour MP Thomas Docherty, said: "From Kincardine to the Tay Bridge, the No campaign has been out there on the streets, talking to voters calmly and addressing their questions and on issues like Rosyth Dockyard, for example, in west Fife."
He added: "I think the YouGov poll (which gave Yes a narrow lead a fortnight ago) was a huge wake-up call, not just for the campaign, but to the people of Fife as a whole. Where we saw some big wins tonight in Fife, the parties put aside their differences to work together."
Conceding defeat, SNP Fife councillor and Yes Scotland referendum agent for Fife, John Beare, said he was "disappointed yes, down and out, no".
He said: "We fought a wonderful campaign considering we started at 30%. We've increased by about 12%. We've won the argument, but not by enough."
SNP MSP for Mid Scotland and Fife Annabelle Ewing said she would "accept the democratic decision of the people".
She added: "We'll look at the result in terms of what comes next.
"We'll also look at the vow made by the three unionist parties in the last week."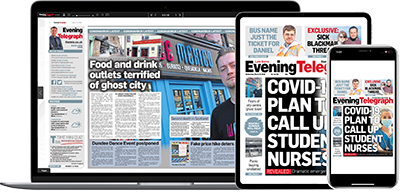 Help support quality local journalism … become a digital subscriber to the Evening Telegraph
Subscribe