Pubs and clubs in Fife have seen Christmas come early, as a decision from the licensing board extended their festive opening hours.
Similar to previous years, from December 2 until January 2 on-sales premises such as bars and nightclubs will be granted an extension of licence until 1am every day of the week.
The decision could be worth thousands to Fife's licensed trade industry.
Police stated no objections about the extension, despite previously pointing out they saw an increase in crimes committed while opening hours were extended during the 2012 festive season.
A Police Scotland spokesman said: "Our festive policy has been the same each year for a number of years, and on this occasion police have no concerns.
"We continue to work with Fife licensing board to monitor such extensions."
Councillor Jim Young said additional seasonal drinking would not result in an increase in trouble.
He said: "With festive drinking, usually people are having meals and will not be causing trouble."
The report to the committee stated the extension of hours last year was a success and no consultees expressed concerns about this year's extension.
Current proposals extend licensing hours up to 1am and any businesses wishing to open later must make individual applications to the licensing board.
Councillor Tom Adams cautioned against passing the measure consistently every year, and making sure to consider it on individual merits.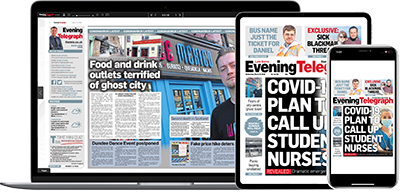 Help support quality local journalism … become a digital subscriber to the Evening Telegraph
For as little as £5.99 a month you can access all of our content, including Premium articles.
Subscribe