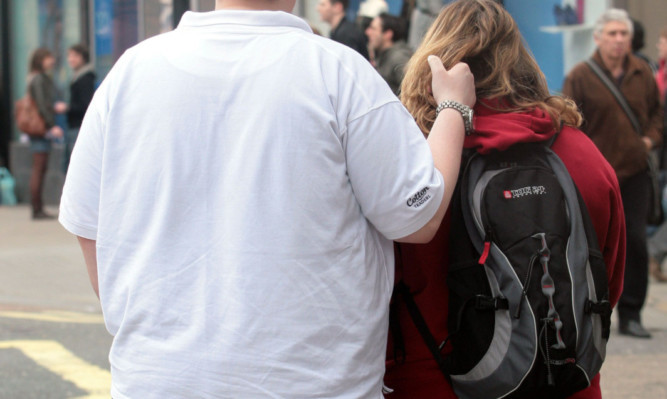 Two in every three adults in Tayside are obese or overweight.
NHS public health officials admit that the health problem has reached "epidemic" proportions in Tayside and have made tackling it a number one priority.
The plan for a "war on obesity" is revealed in NHS public health director Dr Drew Walker's annual report.
According to the study, one in five pregnant women in the area is obese and 22.5% of primary one children are at risk of being overweight or obese.
Dr Walker stated: "Obesity should be made a specific priority at strategic and delivery levels for NHS Tayside and local authorities.
"The population of Tayside should be full and equal partners in the war on obesity."
Being above a healthy weight can increase the risk of diseases such as type two diabetes, heart disease, some cancers, hypertension and even premature death.
Joyce Thompson, dietetic consultant in Public Health Nutrition at NHS Tayside, said: "What has been happening over the years is that the proportion of the population that's overweight or obese is increasing.
"It's predicted that, by 2030, if things continue the way they are going, 40% of the population here will be obese."
The figures were calculated by measuring the body mass index (BMI) of people in the area between 2008 and 2011. In adults, a BMI between 25 and 30 implies a person is overweight and a BMI greater than 30 indicates obesity.
In Tayside, it was found that 66% of adults (62.5% of women and 70% of men) had a BMI over 25. And one in four was classified as obese.
Joyce said: "We need to do something about this, because it's impacting on the risk of diseases and subsequently costing society a large amount of money.
"So, it's not just about health it also has economic consequences for the community."
One issue that the report highlights is the amount of maternal obesity in Tayside, with 20.3% of pregnant women having a BMI of over 30 in 2013.
Obese women are twice as likely to have a stillborn baby as normal-weight women and babies born to obese mothers are more likely to have congenital anomalies, like neural tube defects.
Fiona McCurdy, a lifestyle coach, runs a weight loss and fitness programme at St Ninian's Church as part of the Slimming World franchise.
She said that, as an organisation, Slimming World takes care to work with the Midwife Association to ensure pregnant women get the correct weight loss advice.
"They can't join without midwife permission and every time they weigh in, the results go back to the midwife," said Fiona. "It's very tightly regulated to ensure it's safe."
As well as helping pregnant women, Fiona's group also offers free membership for children aged between 11 and 15.
"For the young people, we love to see them coming along because they can learn about healthy eating. It's not just weighing and diets," she said.
Joyce was also keen to emphasise the importance of teaching young people about nutrition. She said: "If you can support your children and encourage a healthy lifestyle, that's going to help prevent weight problems in the first place. But we need to look at what changes can be made to our environment to make a healthy weight achievable for all."