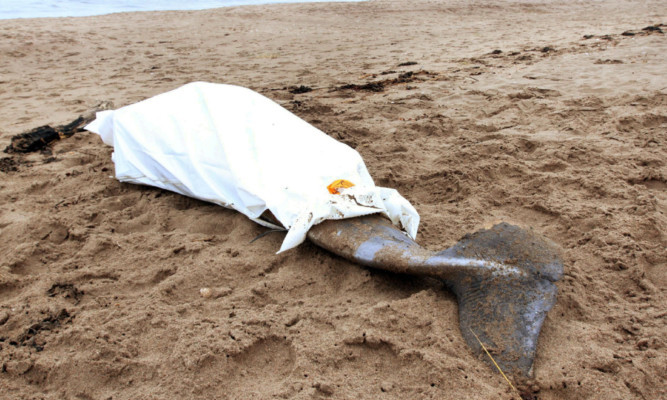 A dead dolphin has been washed up on the beach at Monifieth.
Animal experts say the young male dolphin was discovered at around 4pm on Monday and was quickly placed in a body bag.
It was due to be examined by specialists from the Scottish Marine Animal Stranding Scheme in Inverness on Tuesday.
It is not currently known how the animal came to end up on the beach, close to the football playing fields.
Stewart Burns, 31, a member of the British Divers Marine Life Rescue group, said: "It's unusual to find a dead dolphin and we want to know if it was stranded.
"We're trying to figure out what happened. It's not a very nice sight."
Stewart said the dolphin could have died at sea and been swept ashore or it may have become stranded and passed away on the beach.
Usually, he and his fellow marine life rescuers would take samples from the carcass but because of the rarity of having a dolphin wash up on Angus shores, they deferred the case to their Inverness colleagues.
"If it was just a porpoise or something we would collect the samples," said Stewart, who lives in the Blackness area of Dundee.
"But we didn't this time because it's a common dolphin and so they need to carry out a full post mortem."
Stewart issued a warning to members of the public to keep away from the animal which could be considered a danger to people's health.
He added: "All wild animals carry bacteria.
"People have got a curiosity and they like to get close.
"We have seen people do some pretty horrible things, like poke the animals' eyes.
"But although it's dead it could still make you feel unwell, so people need to stay away from it.
"At the end of the day it's a dead animal.
"It's amazing how quickly foreign bacteria can spread.
"This dolphin's not as dangerous, because it's dead, but when it's in the water it's taking in all sorts of bacteria that's harmful to us.
"Then if it's breathing on the shore its breath can carry that bacteria into the air.
"So stay away from it."