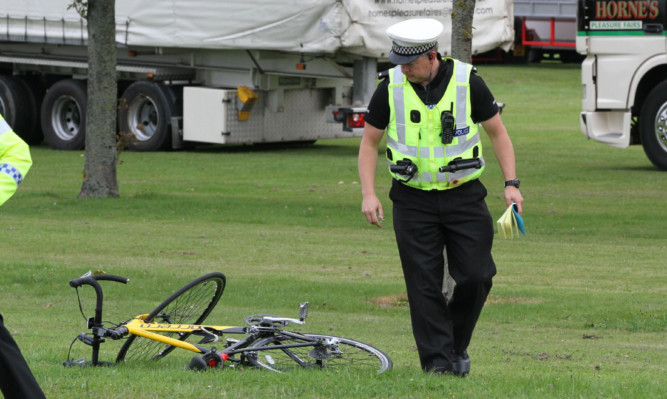 Cyclists have been involved in nearly 300 crashes in Tayside since the turn of the decade, new figures have revealed.
Police Scotland data since 2010 showed that 289 cyclists were in road traffic collisions, 235 of whom or 81% were injured or killed as a result.
Particularly concerning is the fact that 24 cyclists under the age of 10 were injured in that period, four seriously. But, thankfully, none were killed.
And it appears the number of collisions involving bikes is still going up as there were 56 in 2010, compared to 67 last year an increase of 19%.
Martin Harris, the secretary of Dundee's Discovery Junior Cycling Club, said the figures were far too high for his liking.
He said: "One accident is one too many in my opinion so these figures are obviously worrying.
"The problem is that when a car and a cyclist collide there is very little consequence to the driver.
"People go on about helmets and yes, they can help, but if you get hit on the side or from behind, it doesn't make any difference at all to your injuries elsewhere on your body.
"Sometimes all it takes is just for the driver to wait 10 seconds that's all for a safe moment to overtake. Sometimes they just don't have enough patience.
"I think people don't realise how easy it is to kill someone in a car. You can get carried away with how fast you are going."
Martin says giving youngsters more cycling skills and more focus on cyclists in driving theory tests could help reduce the numbers of those being knocked off their bike in the future.
He said: "I think if we're really going to get a decrease, we need to see more done at school level.
"I'm looking at ways to get involved with teaching kids at school, particularly teenagers because they use bikes a lot and within a few years they, themselves, will be driving cars.
"I think that is the best time to teach them how to handle a bike and then when they come to learning to drive they'll also have more awareness at how to approach and manoeuvre past cyclists.
"There's maybe something that could be added to car theory tests about how to treat cyclists as well.
"But drivers are not to blame for every crash involving a cyclist and that's why teaching bike handling skills to youngsters is so important.
"The other thing is that we've got a great velodrome facility at Caird Park that is hardly ever used.
"That needs to change first."
Dundee does have a number of designated cycling routes, particularly in the city centre and through the west end, but Martin claims more room is needed if people are to feel safe enough to travel around on bikes instead of cars.
He said: "It's a mentality thing over here.
"We build our roads for cars and cars only, whereas if you go to some place in Europe for example, they've been built for both.
"I wouldn't say it's impossible, but it'd be very difficult to change things here now. There's no room for cycle lanes on many roads."