Burnt toast was a major cause of false fire alarms, according to new figures.
The quarterly Scottish Fire and Rescue Service report, which will be presented to councillors, suggests cooking was the main cause of the 57 false alarms with "good intent" between April 1 and June 30.
Five of the 35 "malicious" false alarms were linked to student accommodation.
Report author, area manager David Stapley, said: "Of the incidents attended, 57 were reported as false alarm good intent; 22 of these were in dwellings where the main cause was cooking/burnt toast.
"Malicious false alarms take the form of calls to the Scottish Fire and Rescue Service from mobile telephones and landlines falsely reporting fires or other emergency incidents as well as including the deliberate actuation of fire alarm systems normally through the activation of break glass call points or detector heads.
"There were a total of 35 malicious false alarm calls, which were attended by operational crews, 18 of which were in response to a fire alarm call point being activated.
"Analysis of the malicious false alarm calls attended during the reporting period has highlighted that five incidents were directly linked to student accommodation.
"The other incidents were more isolated."
There were 557 false alarms between April and June, slightly above the five year average of 524.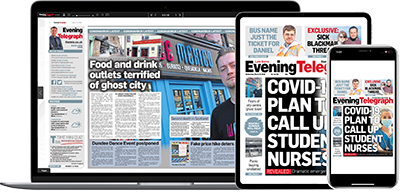 Help support quality local journalism … become a digital subscriber to the Evening Telegraph
Subscribe