An alpaca farm in St Andrews could be put on hold after planning permission for a static caravan was refused.
Paul Johnson claimed the caravan was put on the site at Bowbridge Croft, Falfield, before planning permission was sought as a result of the timing of its delivery.
Fife Council planners said there was no justification for the placing of the caravan and said it was detrimental to the area.
Mr Johnson, of Middleshade Road, St Andrews, plans to use the area to raise alpacas, building from a starter herd to about 100 animals.
He wanted a caravan on site for security since alpacas cost up to £1,000 each as wll as to allow 24-hour access to the animals and facilitate the handling of them.
Mr Johnson also plans to sell the alpacas on to other starter flocks and for their fleeces.
Other proposed additions to the croft include ducks, hens, rare breed sheep, pigs, goats and bees.
Mr Johnson told planners field drainage had just been installed and he was preparing to sow grass.
Once that was established he said alpacas would be brought to the site.
Residents had previously objected to the plans. An agent writing to Fife Council on behalf of a neighbouring property in Peat Inn said the caravan detracted from the landscape and was "most certainly out of character and keeping with the surroundings".
He also expressed concerns about the keeping of alpacas on the site, saying there was no reference to arrangements for fencing or housing for the animals in the planning application.
In refusing the application, Fife Council said the proposal would not be warranted by the existing needs of agriculture or forestry operations and would result in the erosion of the existing rural landscape.
The council added the siting of the caravan "in a prominent location" would be to the detriment of the rural countryside area.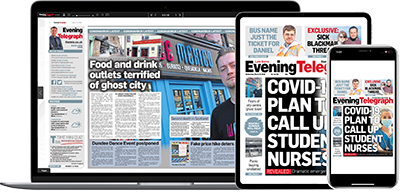 Help support quality local journalism … become a digital subscriber to the Evening Telegraph
For as little as £5.99 a month you can access all of our content, including Premium articles.
Subscribe