A "reckless" Fife dentist has been reprimanded after one of his patients suffered "health complications" from swallowing bleach.
Raul Martinez, who is registered at Pitcoudie Dental Surgery also known as Nanodent Dental Practice in Glenrothes, was given the reprimand after a General Dental Council hearing.
It related to an incident on July 5 2012, during his treatment of an unnamed patient, referred to as "Patient A", where his dental nurse assistant "accidentally gave Patient A a cup to drink from which contained bleach".
Following Patient A's ingestion of the bleach, Martinez failed to inform him about what he had swallowed, and instead "allowed him to think that there had been some chlorine in the cup" instead.
Martinez didn't seek medical advice and did not advise the patient to seek medical attention.
The dentist, who qualified in Valencia, in 2003, even continued Patient A's treatment despite the "distressed state" of his assistant. Martinez also failed to record in the patient's notes about what had happened and "did not successfully make contact with him for an extended period of time despite being aware that he had suffered complications after ingesting bleach".
As a result, the GDC's verdict said: "Your conduct in relation to Patient A's ingestion of bleach was found to be reckless as to his wellbeing and, in some respects, to have been misleading."
Martinez's hearing took place in London, and was conducted by a practice committee of the GDC. In the sanction section of its report, the GDC warned that a repetition of such a serious incident would have "serious consequences" on Martinez's registration.
It said: "This was an isolated case involving one patient in an otherwise unblemished career.
"In the light of the committee's concerns regarding public perception, the reputation of the profession and the need to declare and uphold standards, it determined that a reprimand is the appropriate and proportionate sanction in this case. Your conduct fell far below the standard expected of a registered dentist.
"Any repetition of such conduct would have serious consequences. "
A spokeswoman for Nanodent Dental Practice confirmed to the Tele that Martinez was still employed in Glenrothes.
In a statement issued on his behalf, Dr Martinez said: "I accept the GDC's decision and I would like to apologise to the patient again for this unfortunate incident.
"Although I cannot comment further due to confidentiality, I reassure my patients that I have learnt from this experience.
"My aim is to always provide the best possible care to all my patients."
Dr Stella Anne Clark, NHS Fife medical director for primary care, said: "We are aware of this case.
"However, as general dental practitioners are independent contractors it would be inappropriate for NHS Fife to comment further."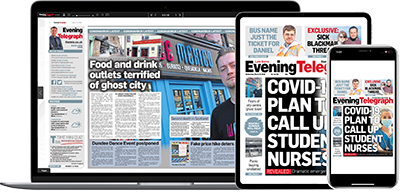 Help support quality local journalism … become a digital subscriber to the Evening Telegraph
Subscribe