A stop and search pilot project under way in Fife is yielding "encouraging and positive" early results, according to Fife's police chief.
Under the six-month trial which began in July, police officers must state clearly to people that they have the right to refuse to be searched, except in circumstances where police have reasonable grounds for suspicion or have other statutory grounds to do so.
Officers have also been sending letters to parents of children under the age of 12 who have been stopped and searched, explaining the reasons why their child was targeted. Police must also record every person they stop and search across the region, as well as the reasons behind their stop and search.
Fife's divisional commander, Chief Superintendent Garry McEwan told members of the safer communities committee the purpose of the pilot was to improve transparency and understanding of stop and search.
"The pilot will seek to review and improve analysis, deployment tactics and officer training and the findings of the pilot may further shape Police Scotland's use of stop and search during 2014/2015," he said.
Mr McEwan added independent evaluators from Dundee and Glasgow Universities had been selected to study the pilot and would be conducting their evaluations in the near future.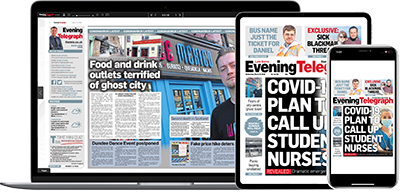 Help support quality local journalism … become a digital subscriber to the Evening Telegraph
Subscribe